Tim Graham Anti-Gay Freakout Watch
Topic: Media Research Center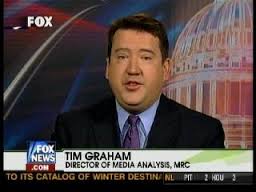 If Media Research Center director of media analysis Tim Graham didn't have regular anti-gay freakouts, he probably wouldn't be able to keep his job. (That, and serving as Brent Bozell's ghostwriter for years.) So when NPR interviewed a gay person, it was freakout time again:
On NPR's Morning Edition, anchor Steve Inskeep announced "It's Friday morning, which is when we hear from StoryCorps, which is marking the anniversary of a pivotal moment for gay rights -- the 1969 Stonewall riots – 45 years ago tomorrow, gay protesters clashed with police in New York. Now StoryCorps is launching an initiative to preserve the stories of LGBT people, which is called OutLoud."

Inskeep turned to the testimony of a seventy-year old homosexual named Patrick Haggerty, who told a story about how he went to high school in rural Washington state with glitter on his face, and his father came to school in dirty farmer clothes. The father was hailed by the son: "I had the patron saint of dads for sissies."

[...]

Inskeep came back to announce: "The interview is recorded in Seattle for OutLoud. That's StoryCorps initiative to collect LGBT stories. It will be archived at the Library of Congress and you can hear more about Stonewall on the podcast. Get it on iTunes and at npr.org."

The whole "OutLoud" LGBT-celebrating enterprise is taxpayer-funded through the Corporation for Public Broadcasting.
Graham is just as outraged that taxpayer money may have been used to talk to gay people as he is at NPR broadcasting it. Of course, Graham won't look at it as offsetting the tax-free money Graham and the MRC use to demonize gays.
Posted by Terry K. at 3:34 PM EDT