WND's 'Shack' Attack Returns
Topic: WorldNetDaily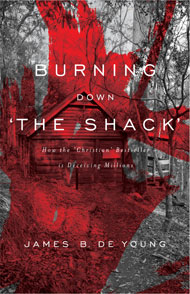 Over the past few years, WorldNetDaily has steadily attacked a Christian book called "The Shack" for deviating too far from WND's preferred right-wing fundamentalism. Now that "The Shack" is being made into a film, WND's long knives are coming out again.
Bob Unruh does the duty this time in a June 1 WND article:
Hollywood insiders report the next major leap for the message in William Paul Young's million-selling book "The Shack" is a first-run movie featuring the talents of Oprah Winfrey, Idris Elba and Forest Whitaker.

According to an Indiewire report, Whitaker will direct and star in the Summit Entertainment film based on a book that has become iconic among evangelicals but also has drawn strong criticism for its theology.

One of the chief critics of "The Shack," James B. De Young, is a former neighbor and colleague of Young who authored a response, "Burning Down 'The Shack.'" De Young charges that "The Shack" minimizes God's holiness and judgment, distorts the work of Christ on the cross and falsely grants forgiveness and salvation to everyone, a doctrine known as universalism.

Today only! Stunning exposé of 'The Shack' – just 99 cents! Discover how the 'Christian' bestseller is deceiving millions

"I remain convinced that 'The Shack' is aberrant theology," De Young told WND on Tuesday. "'The Shack' goes to the heart of universal reconciliation, Christian universalism."
Unmentioned by Unruh: DeYoung's attack book was published by WND. And being an Unruh article, the original author of "The Shack" is not given an opportunity to respond to his critics.
Which makes Unruh's article less of an attack piece and more of an undisclosed in-house ad.
Posted by Terry K. at 10:02 AM EDT