MRC Still Peddling Lies About Rachel Carson
Topic: Media Research Center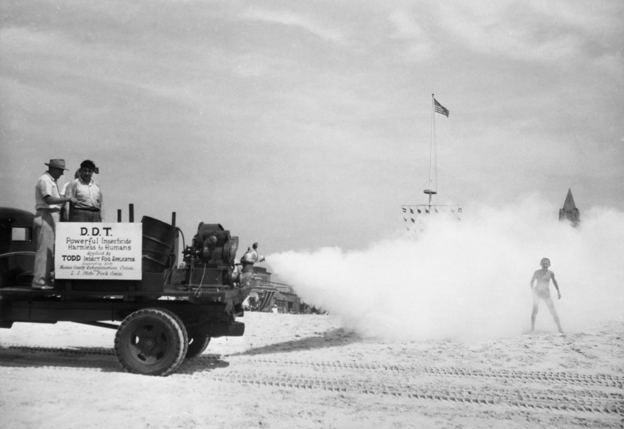 The Media Research Center's Brent Bozell and Tim Graham devoted their May 30 column to lamenting the existence of a "horrible myth" that Ronald Reagan's silence on the growing AIDS epidemic caused people to die, citing a rant by gay activist Larry Kramer: "Our murderer is dead. The man who murdered more gay people than anyone in the entire history of the world, is dead. More people than Hitler even."
Meanwhile, those who work for Bozell and Graham are busy pushing their own horrible death myths.
In a May 27 NewsBusters post, Scott Whitlock rants:
The liberals at Google honored radical environmentalist Rachel Carson on their home page, Tuesday, in honor of what would have been her 107th birthday. With the Google logo in the background, an illustration featured the late Carson in the wilderness, next to birds, turtles and butterflies. Clicking on this picture will bring web browsers to a search of all things Carson. Journalists, Al Gore and Hollywood have long lauded the activist. But few of them have questioned her accuracy or impact.

Carson's claim to fame came when she published Silent Spring in 1962. The book warned of the dangers of pesticide to birds and lobbied for banning the chemical DDT. However, this contention turned out to be flat-out wrong and has had deadly consequences. As San Jose State University entomologist J. Gordon Edwards explained: "This implication that DDT is horribly deadly is completely false. Human volunteers have ingested as much as 35 milligrams of it a day for nearly two years and suffered no adverse effects. Millions of people have lived with DDT intimately during the mosquito spray programs and nobody even got sick as a result."

In an article entitled "Rachel Carson's Deadly Fantasies," Forbes writer Henry Miller explained how Carson's fear-mongering cost millions of lives:

[...]

Will Google do a tribute to the millions who died because of DDT bans?
Except little of that is actually true. As we pointed out the last time the MRC did this, Carson never advocated for banning DDT, just that they not be overused. And for good reason -- overuse was creating DDT-resistant mosquitoes. Also, the U.S. ban on DDT didn't apply to the rest of the world and, thus, could not possibly have caused "millions of lives." Further, DDT is undenably destructive to the environment.
We will see Google do "a tribute to the millions who died because of DDT bans" before conservatives like Whitlock acknowledges the millions of deaths caused DDT-resistant mosquitoes.
Posted by Terry K. at 8:57 PM EDT