WND's Jack Wheeler Is On An Obama Derangement Roll
Topic: WorldNetDaily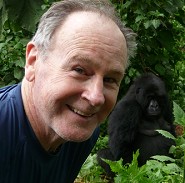 Jack Wheeler resurfaced at WorldNetDaily a couple weeks back to peddle his brand of Obama derangement. He's apparently on a derangement roll because he has more deep thoughts to share with the world.
in his May 19 column, Wheeler laments that impeachment is too cumbersome and that "there is a much faster and easier way to eject Obama from office. It is the law that can put him in jail." Wheeler unearths the Antideficiency Act, which prohibits the government from authorizing an expenditure exceeding the amount appropriated for it.
What does that have to do with Obama? Wheeler sorta explains:
Sen. Ted Cruz, R-Texas, has provided 76 examples of Obama's lawlessness. In each instance, it cost federal government money to implement them. Were any of these implementations authorized by a congressional appropriation? For every one that wasn't, that's one count of violating the Antideficiency Act. Every count of which the defendant is found guilty can mean two years in jail.

Mr. Obama needs to be prosecuted in violation of the Antideficiency Act. He can be criminally prosecuted, per §1350, for knowingly and willfully violating it.

Note, however, that §1349 only requires violation of the act (without the knowing/willful qualifier) for the perpetrator to be suspended and removed from office.
First, as we've previously noted, a significant number of Cruz's "76 examples of Obama's lawlessness" aren't even true. Second, if Wikipedia is to be believed, nobody has ever been prosecuted, let alone indicted, for violating this law.
But Wheeler isn't about to let reality get in his way:
We have the Constitution and the specific federal law to put an end to the tyranny. It's time to go on offense. All patriots now have the opportunity to actively encourage Republican governors to have their state prosecute the president and to help conservative law firms build their case.

The Antideficiency Act is the means by which Mr. Obama can be thrown out of office and go to jail. Let's use it.
If Wheeler has not met Larry Klayman, a similarly reality-challenged Obama-hater, WND should really introduce those two.
Posted by Terry K. at 8:20 PM EDT