Mychal Massie And the Gullible Americans
Topic: WorldNetDaily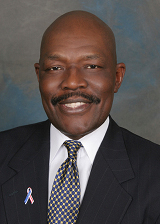 Mychal Massie writes in his May 5 WorldNetDaily column: "People are gullible, and, the greater the desire to be viewed as knowledgeable, the greater the ease with which they buy into lies."
There's no greater illustration of that than Massie himself. Massie's penchant for using obscure words certainly marks him as someone who wants to be seen as knowledgeable, and he tells depraved lies at an astonishing pace. His column further tests the gullibility of his readers:
I remember vividly the lies in the late 1970s and early 1980s which claimed that, due to global cooling, by 1990 we would witness environmental catastrophes of "biblical proportions." We were told people were going to die, crops would fail to grow and food shortages would be rampant. Time magazine and other so-called respected publications ran major features that supported the lies. Suffice it to say, catastrophes never happened.
Actually, there was never a scientific consensus on global cooling in the 1970s. Overhyping in the media aside, of 71 peer reviewed studies on climate change from 1965 to 1979, only seven articles predicted global cooling, while well over half predicted global warming.
And it wouldn't be a Massie column if he didn't spew some Obama derangement:
And perhaps the greatest fabricated story in the annals of history is that of Barack Obama. But people are still near manic in idolizing a person about whom less is factually known than is known about the Old Testament priest Melchizedek. And to compound that, these same people still bow before his every word even though he has been proven to be a pernicious subverter of truth, time after time.
That's right -- the depraved liar is warning that someone else is a liar. Massie is clearly hoping that his readers are gullible enough to ignore history.
Posted by Terry K. at 1:18 AM EDT