AIM's Kincaid Touts Its Kangaroo Court, Suggests Germany's Merkel Is A Secret Commie
Topic: Accuracy in Media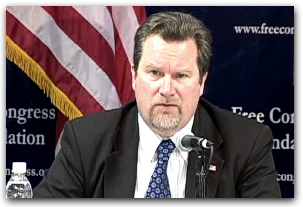 Cliff Kincaid takes a victory lap in a May 5 Accuracy in Media column:
The announcement that the House will vote on a special congressional committee to investigate Benghazi is long overdue. Accuracy in Media's two special conferences on Benghazi helped mobilize the public and the press to demand this outcome.
Well, actually, not so much. AIM's "Citizen's Commission on Benghazi" is nothing more than a kangaroo court stacked with Obama-haters and birthers, none of whom have any interest in objective analysis and all of whom have every motivation to smear the president.
Kincaid goes on to tout one of the conclusions AIM's kangaroo court came to:
At AIM's second conference on Benghazi, held at the National Press Club on April 22, retired Admiral James "Ace" Lyons stated openly what many have been talking about privately—that the transformation of U.S. policy from opposing to supporting al Qaeda can only be understood in terms of Muslim Brotherhood "penetration into every national security agency of this government," and "their carte blanche entry into the [Obama] White House."

So will these agents of influence be named and exposed by the Benghazi special committee? That is why the public has to continue to be mobilized to apply pressure.
This leads to a defense of Joseph McCarthy dubious Red Scare tactics.
But Kincaid isn't done with the infiltration theme. He wrote a second May 5 column promoting the idea that German Chancellor Angela Merkel is some kind of secret Soviet agent (and, of course, brings Obama into it):
In the current context, with Putin continuing to destabilize Ukraine, the other notable case of alleged penetration is Germany. As we noted in a previous column, a book by Günther Lachmann and Ralf Georg Reuth published last year looks at the hidden communist past of German Chancellor Angela Merkel, who spent 35 years of her life in East Germany, and concealed her work as an ideologue for a communist youth group.

The book grows increasingly relevant as we watch the Germans maneuver to avoid punishing Russia over its invasion of Ukraine. In the face of Russian aggression, Merkel says "…we want to continue having a reasonable partnership with Russia."

"Germany is one of our strongest allies, and Angela is one of my closest partners," said Obama. But since Russia is Germany's partner, what does that say about Obama? The pieces of the puzzle are falling into place in front of our eyes.

The German book, The First Life of Angela M., only goes so far. It does not make the direct charge that Merkel is a Russian agent. That is a taboo topic, in the same way that an analysis of Obama's grooming by Frank Marshall Davis is considered a form of "McCarthyism" directed against a civil rights activist. At least that is the rationale being offered by the media in the U.S. to avoid facing facts.
Remember, this kind of conspiracy talk is coming from the same organization that thinks its Benghazi kangaroo court is meaningful.
Posted by Terry K. at 3:23 PM EDT