WND's Farah Goes Godwin, Makes An Obama-Hitler Comparison
Topic: WorldNetDaily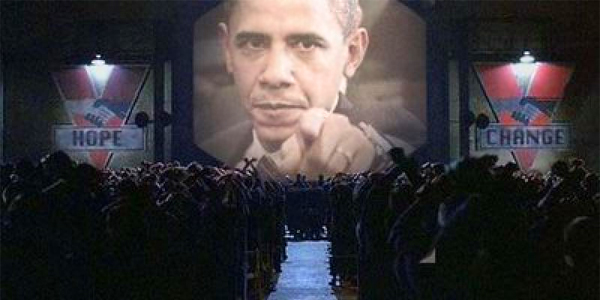 WND's standard illustration for slandering Obama as Hitler or some other dictator.

Having brought in Anita Dittman as WorldNetDaily's new resident Godwinist -- dropping slanderous comparisons of President Obama to Hitler -- has apparently inspired WND editor Joseph Farah to drop his own Godwinism in his May 5 column:
No U.S. president since Israel was reborn in 1948 has been less of a friend to Israel or the Jewish people than Barack Obama. He seeks to redraw the nation's borders in a way that would leave Israel unable to defend itself. He has sought to freeze building by Jews in and around Israel's capital. He seeks a so-called peace agreement that would involve ethnic cleansing of Jews in a future Palestinian state. Obama is not operating in the spirit of Oscar Schindler. On the contrary, he is operating in the spirit of those who appeased Adolf Hitler in the 1930s. He is operating in the spirit of those who looked the other way as 6 million Jews were exterminated. He is operating in the spirit of those who had an opportunity to save Jews from death in the Holocaust but did nothing.

In short, Obama's list of humanitarian priorities is not like Schindler's.
Farah, meanwhile, is a liar and slanderer who pretends to be a virtuous Christian, so he's not exactly occupying the moral ground here.
Meanwhile, WND has repackaged Dittman's earlier Obama-is-Hitler comparison as a cynical promotion for Dittman's WND-published book, "Trapped in Hitler's Hell." One wonders if the book's title is an explanation for Dittman's Big Lie technique.
Posted by Terry K. at 12:44 AM EDT