MRC's Bozell and Graham Again At War With Grammar And Perspective
Topic: Media Research Center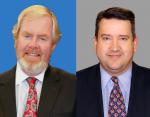 Last week, we noted that a column by the Media Research Center's Brent Bozell and Tim Graham cited an "early childhood memory" without explaining to which of the authors the memory belonged.
Bozell and Graham do it again in their May 2 column:
Saint Mary's Institute is the Catholic grade school in my wife's New York hometown, Amsterdam. It is affiliated with Saint Mary's Catholic Church, whose pastor Rev. John Medwid pens the opening to the Saint Mary's Institute annual newsletter.
Whose wife is being referred to here? We might assume that it's Bozell's, but it was revealed in February that Graham does all the heavy lifting in writing with Bozell's contributions unclear at best.
Either Graham has forgotten he deserves credit for his ghostwriter, or he has forgotten that it's a violation of grammar to offer a first-person perspective in a column authored by more than one person.
By the way, it seems that MRC division CNSNews.com has finally settled upon a way of properly crediting Graham after weeks of botching it. But at the MRC's main site, Graham got credit for a while but recent columns carry only Bozell's byline.
Posted by Terry K. at 1:27 PM EDT