WND Doubles Down on Bundy, Pretends There's Context To His Racist Remarks
Topic: WorldNetDaily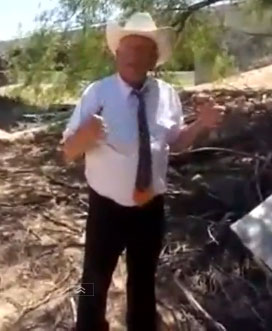 WorldNetDaily has decided on its narrative -- that Cliven Bundy's racist remarks were somehow taken out of context -- and they're sticking to it.
Joseph Farah rants in his April 25 column:
After the Times smeared as a rock-ribbed racist through the use of selective quotes the new hero of resistance to tyranny in America, there was a new development: The video recording of the actual remarks emerged.

To say the New York Times bent over backwards to make Bundy look like an unregenerate bigot would be an understatement. I suggest you view the video for yourself at the end of this column. Does he seem like a hater to you? Or does he actually sound like a man with compassion for blacks who have been systematically abused by a new plantation mentality imposed by government dependence?
Farah never explains how the supposed context of Bundy's words makes his references to "the negro" and his wondering if they were "better off as slaves, picking cotton and having a family life and doing things, or are they better off under government subsidy" any less offensive.
Farah also goes full Jack Cashill and declares that Harry Reid's use of two words has a larger meaning than he can actually prove:
Meanwhile, the guy who I suspect is the mastermind of the efforts by government to make an example of Cliven Bundy yesterday showed his own hand.

Senate Majority Leader Harry Reid called on all of his "progressive" friends to form a "united front" against Bundy.

For those of you untrained in the tactical and strategic arts of the totalitarian left, let me explain that terminology. "United front" has special meaning to only one group – communists. If you doubt what I, a former commie, have to say about it, just Google the term. See for yourself. What Harry Reid's use of this term suggests is the left considers Cliven Bundy and all those rallying around his cause to be the most important target of the day. The "progressives" are apoplectic about this showdown in the desert. After all, they are supposed to be the champions of hardworking people. The government is supposed to be the friend and savior of working people. Yet, what Cliven Bundy has done, using "progressive" terminology, is to "heighten the contradictions" of socialist reality.
Yet, apparently, Bundy's references to "the negro" and "picking cotton" carry no deeper meaning to Farah -- none that he'll admit to in public, anyway.
WND pulls a similar stunt in an unbylined April 25 "news" article declaring, "Even as elements of a traditional media bound to newsprint continued to blast Nevada rancher Cliven Bundy on Friday for his remarks about blacks, he was getting more support, from blacks." The only blacksWND can name, however, is right-wing activist Niger Innes and a bodyguard for Bundy.
The unbylined article then asserts:
First came the chorus of critics who blasted Bundy as a bigot and racist, but given his status as a folk hero for standing up to the federal bureaucracy, in the shape of the Bureau of Land Management, there was immediate suspicion that there was some context to the quote.

There was.
Again, WND fails to explain how the supposed context makes Bundy's words less offensive.
In both of these articles, WND engages in content theft by making a copy of Bundy's remarks from the version posted at Media Matters (disclosure: my employer) and placing that video in a WND-controlled frame so that it can run ads before it. WND doesn't even bother to alter the Media Matters ID logos, which makes the content theft all the more blatant.
So, to recap:
WND demands context for Bundy, but it unashamedly steals the work of others.
WND vehemently denies Bundy is a racist while it incessantly race-baits over "black mobs."
These are just a couple of the many reasons nobody believes WND.
Posted by Terry K. at 3:46 PM EDT