WND Columnists Rack Up The Accolades For Rancher, Militia Thugs
Topic: WorldNetDaily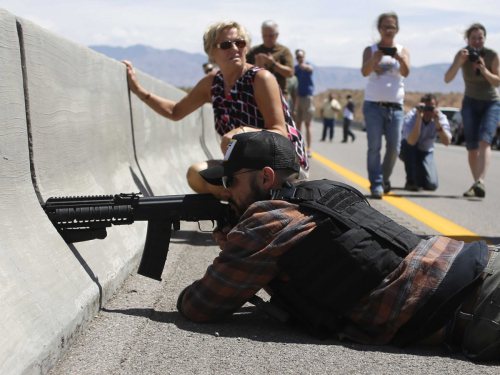 WorldNetDaily columnists are continuing to show their love for lawless rancher Cliven Bundy and the militia thugs that defended him. Larry Klayman serves up a very Klayman-esque rant:
If the events in Nevada over the last week or so are any indication, where brave patriots, exercising their Second Amendment rights, stood down the tyranny of Obama's Bureau of Land Management on behalf of the Bundy family and their cattle ranch, then indeed full-scale revolution is now in full swing in both the courts and through armed men on horseback. Here, militias from throughout the nation converged, along with other brave citizens, to show the government that we simply will not take their "horse manure" anymore. As in the years leading up to 1776, when King George III had his redcoats break into our homes, steal our weapons of self-defense and other property, and rape and pillage the colonies in general, We the People will not stand by and submit to this modern-day despotism. Here, Obama's henchmen at the BLM, without court order, sent in government goons to seize cattle that were legally grazing on state and not federal lands. But when these goons saw that the people meant business, they threw in the towel and fled the scene of their crime as the cowards they are.

But as later forecast by the ultra leftist, corrupt, pro-Obama Senate Majority Leader Harry Reid, the government will be back. Indeed, this was no idle threat and no coincidence; Reid and his lawyer son have an interest in kicking the Bundys off of their Nevada ranch , as they have been involved in using this land for their own ends.

Before these government goons do come back, let this message go forth. Barack Hussein Obama, Harry Reid and the gutless Republican establishment leaders in Congress who roll over to and further this continued government tyranny, We the People have now risen up and we intend to remove you legally from office. This country belongs to us, not you. This land is our land! And, we will fight you will all legal means, including exercising our legitimate Second Amendment rights of self-defense, to end your tyranny and restore freedom to our shores!
Klayman apparently missed the fact that the militia thugs are the goons here.
Tom Tancredo declares that the law doesn't matter in proclaiming Bundy his new Martin Luther King:
The narrow legal issue in the Bundy ranch controversy is his refusal to pay grazing fees to the Bureau of Land Management over the past 21 years. There is a court order telling him he must pay the fees, and many conservative commentators say he has no legal leg to stand on in that defiance. In terms of "settled case law," they are probably right. But, is that a good enough reason to abandon Cliven Bundy and his family?

Martin Luther King heard the same arguments when he protested segregated lunch counters in Birmingham, Ala. King chose to go to jail to challenge those "settled laws," and those laws were overturned by the Civil Rights Act of 1964.
Barbara Simpson is unhappy with Harry Reid for calling those militia thugs the domestic terrorists they are:
The armed men backed off, but Reid didn't. He quickly spoke up from the safety of his offices that the people who objected to what happened, and the Bundy family in particular, are "domestic terrorists" and that this incident "isn't over."

According to Harry Reid, disagreeing with the feds and standing up for your rights makes you a terrorist, and because of that, the feds have the right to blow you and your family away.

Sorry, Harry, that's not America and despite what you say, Americans don't use the military to enforce laws.

[...]

If I were the Bundy family, I'd chain the fences, lock the doors and lock and load.

They might need all the protection they can muster.
Mychal Massie also bashes Reid, and for good measure, throws in some trademark borderline-libelous Obama derangement as well:
When Reid speaks of domestic terrorists and involvement with same he need look no further than those in his party. Let's start with the pernicious one he calls the leader of his party. Does Reid want us to forget that Barack Obama's good friend, confidant and ghost writer of his books "Dreams From My Father" and Obama's memoirs is none other than Bill Ayers? That's Bill Ayers the avowed communist and leader of the domestic terrorist group Students for a Democratic Society who went on to co-found the Weather Underground, a self-described communist revolutionary group that planned and carried out a campaign of bombings of police stations and government and public buildings through the 1960s into the 1970s.

Does Reid want us to forget that Obama's good friend Bill Ayers openly lamented, while Obama was in office, that his only regret was his bombings did not cause more harm and destruction? Would Reid have us forget that the wife of Obama's good buddy William Ayers, Bernardine Dohrn, was a hunted fugitive on the FBI Ten Most Wanted List for her role in a bombing that resulted in the murder of a police officer? Would Reid have us forget that Bill Ayers, the good friend and financial supporter of his president, co-authored a book in 1973 titled "Prairie Fire," which was dedicated to, among others, Sirhan Sirhan, the domestic terrorist who assassinated Robert Kennedy?

Do We the People who support the Bundy family descend to that level of behavior? Absolutely not.
Massie loves to lie about all things Obama, and he does so here too. Ayers first said he regrets he "didn't do enough" to stop the Vietnam War -- not that he regrets the Westher Underground's bombs didn't do "more harm and destruction" -- in 2001, not "while Obama was in office."b And Massie is exactly the kind of unhinged Obama-hater who would believe Jack Cashill's conspiracy theory that Ayers ghost-wrote Obama's first book.
As far as the level of behavior Massie descends to: In addition to the aforementioned depraved lies, he loves to call Michelle Obama "Buttzilla" and rooting for Obama to be assassinated. Apparently that's the level of filth Massie is most comfortable with.
Posted by Terry K. at 10:01 AM EDT