Surprise, Surprise, Another Lie from WND's Farah
Topic: WorldNetDaily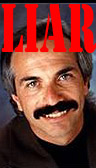 Joseph Farah writes in an April 18 WorldNetDaily column:
No doubt those behind the 1993 Clinton administration plan to disarm personnel on U.S. military bases thought nobody in their right mind would attack one. Since that decision, hundreds of soldiers and civilian workers on domestic U.S. military bases have been killed or wounded. Prior to that decision, there were no recorded mass shootings.
In fact, the Department of Defense directive establishing the rules limiting firearms on military bases was issued in 1992, when George H.W. Bush was president and Dick Cheney was Secretary of Defense.
But hey, serial liar Farah did admit that he publishes misinformation, so it's all good!
Posted by Terry K. at 9:38 AM EDT