CNS' Chapman Race-Baits On Apparent Illegal Immigrant's Crime
Topic: CNSNews.com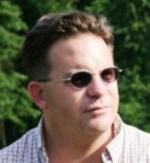 A March 28 CNSNews.com article by Michael Chapman has a weird tone:
Luis Enrique Marin Noyola, a 20-year-old Hispanic man, was arrested by Winston-Salem police officers and charged with raping a 3-year-old, and a U.S. Immigration and Customs Enforcement (ICE) detainer has been put in place in the case.

According to the Winston-Salem Police Department, Noyola entered an apartment on Bruce Street in Winston-Salem, N.C., early on Sunday morning, Mar. 9, and raped the 3-year-old and then fled the scene. After further investigation, police arrested Noyola on Mar. 11.
First, why does Chapman put Noyola's ethnicity in the first paragraph? What does that add to the story? Given that the man is in custody, identifying his race is completely irrelevant.
Second, why is CNS even doing this story? It's a local crime story. Even Noyola's status as an apparent illegal immigrant doesn't raise its news value.
It seems that Chapman, CNS' managing editor, is looking to bring an element of race-baiting to his "news" organization, a la WorldNetDaily's Colin Flaherty.
Posted by Terry K. at 1:38 PM EDT