CNS' Starr Can't Stop Obsessing Over Lesbian 'American Idol' Contestant
Topic: CNSNews.com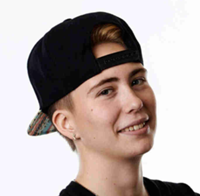 Last month, CNSNews.com's Penny Starr was fretting that "American Idol" contestant MK Nobilette was was not only the first openly gay contestant but also "the first contestant to have two lesbian mothers supporting her in the audience." Starr's anti-gay freakout continues with another article about Nobilette, headlined "'American Idol's' MK Nobilette Has 5 Mommies":
MK Nobilette, the 20-year-old semi-finalist and first openly lesbian on "American Idol," announced on Thursday's show that she has four moms, and if you count Nobilette's biological mother – she was adopted – she has five moms.
On Thursday's show Nobilette explained that the two lesbians in the audience cheering her on were the women who adopted her. Then the two split up and found new lesbian partners.

No mention was made about Nobilette's biological mother (or father), but she obviously has one somewhere. Thus, Nobilette has five mommies.
Why is Starr so obsessed with Nobilette? Does she hate gays that much?
Posted by Terry K. at 8:58 PM EDT