Zombie Blogger At NewsBusters Issues Zombie Complaint
Topic: NewsBusters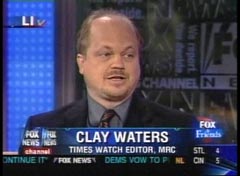 We thought that Clay Waters' departure from the Media Research Center, we were done reading about complaints that the media labeled conservatives as conservative.
But no. In his first work since leaving the MRC last may when his TimesWatch column was canceled, Waters has resurfaced at NewsBusters to, yes, make another silly labeling complaint:
The New York Times covered the latest annual gathering of the Conservative Political Action Conference (CPAC) with its usual mix of suspicion, overloaded labeling bias, and anti-GOP doomsaying. The paper's skeptical coverage of the three-day conservative confab, held this year at National Harbor on the Potomac, opened with two stories in Friday's edition, one on the organizers's attempts to put "a less strident face on the convention and the party."

Reporter Jonathan Martin's rundown of the speech by Republican star Sen. Marco Rubio, still in the mix for the 2016 presidential race, contained nine "conservative" labels, which actually makes it a model of restraint for the Times compared to last year's label-heavy reporting. Yet the question remains: Just how many "conservative" labels do you need, when the conference has the actual word "conservative" in the title?
Waters doesn't answer his question by telling us which "conservative" labels in the article, if any, he considered extraneous.
Speaking of extraneous: Waters' end-of-blog bio still lists him as an MRC employee, portrays TimesWatch as an existing thing, and links to the TimesWatch Twitter feed though it apparently no longer exists.
Posted by Terry K. at 12:32 PM EDT