WND's Unruh Repeats Ted Bundy Myth
Topic: WorldNetDaily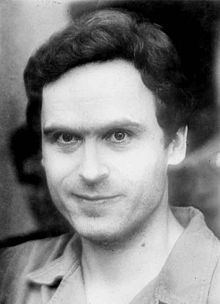 WorldNetDaily's Bob Unruh is such a dutiful transcriber of right-wing talking points that he doesn't dare question what he's transcribing. Thus, he writes in a March 1 article:
The damage done by pornography has been documented in studies. But one of the more compelling condemnations of porn came from serial murderer Ted Bundy, who once escaped from jail in Aspen, Colo., to continue his murderous death trip across America.

Dr. James C. Dobson, now with the nonprofit Family Talk, interviewed Bundy just hours before Bundy was executed on Jan. 24, 1989, in a Florida electric chair.

Bundy, who was blamed for the deaths of dozens of young girls and women, explained that as young boy of 12 or 13, he encountered soft-core pornography in local grocery and drug stores.

"Young boys explore the sideways and byways of their neighborhoods, and in our neighborhood, people would dump the garbage," he said. "From time to time, we would come across books of a harder nature – more graphic. This also included detective magazines, etc., and I want to emphasize this. The most damaging kind of pornography – and I'm talking from hard, real, personal experience – is that that involves violence and sexual violence."

Bundy told Dobson that he accepted responsibility for what he did and was not blaming porn for "causing" him to do something. His M.O. was to wear a fake cast on an arm or leg and "accidentally" drop books near a pretty coed. When she helped him carry books to his car, he would shove her into the passenger side, from which he'd removed the seat, and take off with his latest victim.

Bundy said the issue "is how this kind of literature contributed and helped mold and shape the kinds of violent behavior."

"In the beginning, it fuels this kind of thought process," he told Dobson. "Then, at a certain time, it is instrumental in crystallizing it, making it into something that is almost a separate entity inside."

Bundy said he led "a normal life, except for this one, small but very potent and destructive segment that I kept very secret and close to myself."
But as we've previously documented, Bundy was almost certainly playing Dobson. True-crime writer Ann Rule wrote of the interview:
Two agendas were met with that videotape. Dr. Dobson believed that smut and booze triggered serial killers, and he had the premiere serial killer to validate his theories. Ted wanted to leave behind a legacy of his wisdom and humanity's guilt. He was guilty, yes, but we were guiltier because we allowed pornography to be sold. We walked by newsstands and did not demand that filthy literature be confiscated and outlawed.

[...]

I don't think pornography caused Ted Bundy to kill thirty-six or one hundred or three hundred women. I think he because addicted to the power his crimes gave him. And I think he wanted to leave us talking about him, debating the wisdom of his words. In that, he succeeded magnificently.

The blunt fact is that Ted Bundy was a liar. He lied most of his life, and I think he lied at the end.
The point of Unruh's article is to serve as a press release for the right-wing Morality in Media's "Dirty Dozen" list, at the top of which is Attorney General Eric Holder who allegedly "refuses to enforce existing federal obscenity laws against hard-core adult pornography, despite the fact that these laws have been upheld by the U.S. Supreme Court and effectively enforced by previous attorneys general."
Because this is a glorified press release, not an act of journalism, Unruh can't be bothered to investigate Morality in Media's claim any more than he can be moved to question the Ted Bundy narrative. If he had acted like an actual journalist, he would have found that such prosecutions are increasingly difficult to obtain, and that the Department of Justice has said that obscenity prosecutions are better handled U.S. Attorneys' offices and the Criminal Division's Child Exploitation and Obscenity Section.
Posted by Terry K. at 12:17 AM EST