WND Still Pushing Its Birther Hypocrisy
Topic: WorldNetDaily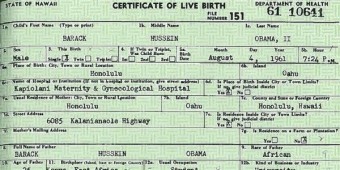 An unbylined Feb. 20 WorldNetDaily article takes issue with a Democrat raising eligibility questions about Ted Cruz because, you know, Obama:
Remember all those questions about Barack Obama's eligibility and the suggestions that if he's not American, he's not eligible to be president?

A Democrat member of Congress has acknowledged that the issue is legitimate.

Well, not really. What Rep. Alan Grayson, D-Fla., said in an interview was that Sen. Ted Cruz, R-Texas, couldn't be president because he's Canadian.

Grayson's comment came in an interview with MSNBC when he was asked who he thinks would win the GOP nomination for president in Florida.

"Since Ted Cruz is a Canadian and our Constitution requires an American to win, I'm pretty sure it's not going to be Ted Cruz," Grayson said.

Cruz has explained that he has held dual citizenship and is renouncing his Canadian citizenship.

The questions about Obama, however, linger as an ongoing, official law enforcement investigation has determined the "birth certificate" he released from the White House appears is a forgery.

[...]

WND Founder and longtime news executive Joseph Farah, whose news organization has covered the dispute about Obama's eligibility, said in a column he was amazed that Democrats have raise the issue regarding Cruz.

"I pointed out … that the media are on a campaign to ensure Sen. Ted Cruz never gets a chance to run for president. Why? Because, they claim or infer, he's ineligible under the constitutional requirement to be a 'natural born citizen,'" Farah wrote.

"It's amazing given the media's ridicule of those of us who posed the question and did six years of investigative work to try to determine Barack Obama's eligibility – a question that has still not been answered, by the way, or even debated rationally on the facts we now know."

Farah said it's "precisely why it was so important to pay attention to the precedent Obama set by refusing to release his birth certificate for two years and then releasing one that was labeled fraudulent by the only law enforcement investigators who have examined it, as well as dozens of document experts."

He said the questions that remain include where Obama was born, whether or not his Hawaii birth certificate is accurate and shows he is a "natural born citizen."
As we've pointed out, the only reason Farah claims there are "questions" about Obama is because WND has refused to report on the answers. Hawaii has vouched for the authenticity of both birth certificates Obama has released, and supposed anomalies in the PDF file of Obama's long-form certificate are easily reproduced with a Xerox scanner.
Farah goes on to rant that "America needs one standard of eligibility" -- but he won't apply to Cruz the standard he used against Obama.
Posted by Terry K. at 1:59 PM EST