CNS Joins Right-Wing Government Ammunition Conspiracy Theory
Topic: CNSNews.com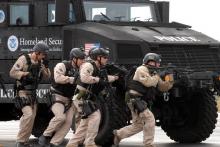 A right-wing staple over the past couple of years is fearmongering about the government buying ammunition. CNSNews.com apparently felt left out, because it decided to hop on the bandwagon with a Feb. 19 article by Ali Meyer:
The Department of Homeland Security (DHS) is contracted to purchase 704,390,250 rounds of ammunition over the next four years, which is equal to a total of about 2,500 rounds per DHS agent per year, according to a January 2014 Government Accountability Office (GAO) report entitled Ammunition Purchases Have Declined Since 2009.
Much of the article is devoted to explaining how the DHS says that really isn't that much ammo for training purposes. But Meyer leads with the sensational and out-of-context claim and doesn't bother to explain the whole right-wing conspiracy thing.
That makes this a lazy and uninformative article. But have we come to expect anything less from CNS?
Posted by Terry K. at 7:50 AM EST