Colin Flaherty's Race-Baiting Psychologist Checks In Again
Topic: WorldNetDaily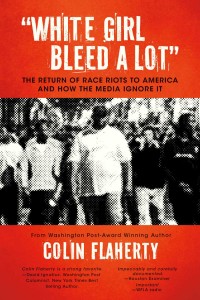 Last month, we profiled Marlin Newburn, the retired psychologist who plays a key role in bolstering Colin Flaherty's race-baiting and "black mob" fearmongering at WorldNetDaily. He contributes again in a Feb. 8 WND article by Flaherty in which he obsesses over a black man convicted of killing a white college student who according to Flaherty "repeatedly referred to his victim as the 'little white boy.'":
"After at least two generations (now) of black people being immersed in resentment politics administered by their race-hustling idols, they have become the creatures they claim to despise," said Newburn. "That's the primary toxic by-product of harboring a resentment, and the young psychopath's remorselessly labeling his victim a 'little white boy' demonstrates this predictable result.

"The MSM's viewpoint is that black people need their ongoing protection due to ancestral suffering inflicted at the hands of non-black people. This is pre-adolescent, lazy, and enabling logic that perpetuates the misery, but the mainstream reporter apparently gets the wonderful feeling they're helping an imaginary downtrodden race.

"Another result in sustaining and then nurturing resentments is that the carrier begins rationalizing like a common, habitual felon in that they speak and act on emotions instead of rational thought. This then carries over into nearly every other aspect of their daily lives since they've become conditioned to believe they're not responsible for anything. Can't read? It's the school's fault. No jobs? It's not because they have no skills, discipline, or sense of responsibility. It's because someone won't just give them one.

"In short, criminals like Seandell believe themselves to be officially exempt from any failures or setbacks in their lives. Their handlers in the media and those with the title of 'reverend' told them so. The resentment and chronic failure continue due to these disastrous fantasies."
Nice bit of armchair psychology there, Marlin. No wonder he's latched onto Flaherty.
Posted by Terry K. at 3:27 PM EST