Will MRC's Bozell Admit He's Doing The Same Thing He's Accusing Obama Of?
Topic: Media Research Center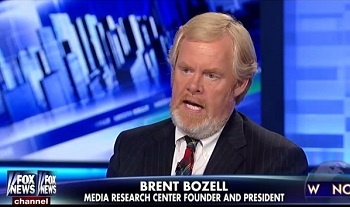 A Feb. 4 NewsBusters post states:
MRC president Brent Bozell appeared on "Cavuto" on the Fox Business channel on Monday night to discuss Bill O'Reilly's Super Bowl interview with President Obama.

Bozell said O'Reilly did a good job, but he wished he would have pushed back harder on the president's attacks on Fox News. "He's speaking to his base. He's speaking to his radical base – that's what he's got left – and he's trying to mobilize them."
Bozell is basically admitting the MRC's modus operandi here. If Obama criticizing Fox's clear bias is "speaking to his radical base," so is Bozell's obsession with the "liberal media."
The fact that MRC must resort to dishonest "research" to prove the continued existence of its "liberal media" meme suggests it can't be backed up any other way. That means Bozell's posturing is solely to mobilize the right-wing base (and, of course, to raise money so the MRC can perpetuate the fraud).
Of course, as with Bozell's faux outrage about others who engage in "character assassination," the guy who called President Obama a "skinny ghetto crackhead" will never, ever admit that the rules he demands others live by should also apply to himself and his employees.
Posted by Terry K. at 1:53 PM EST