NewsBusters' Double Standard on Gleefully Pushing A Scandal
Topic: NewsBusters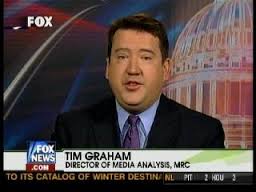 Tim Graham's Jan. 9 NewsBusters post carried the headline "WashPost Gleefully Pushes Scandal as Christie's 2016 Doom: 'Bridge Scandal Engulfing Christie'." Graham huffs that the post is "leaping all over Gov. Chris Christie," adding, "The partisan Post is on fire today."
Graham's complains might be taken a little more seriously were they not immediately preceded on NewsBusters by a post by Matthew Balan gleefully pushing a different so-called scandal by leaping all over President Obama:
ABC, CBS, and NBC ballyhooed former Defense Secretary Robert Gates's attacks on President Obama and other high government officials on their Tuesday evening and Wednesday morning newscasts. NBC's Brian Williams and CBS's Norah O'Donnell also trumpeted the former Cabinet official's "devastating critique" of the President in his upcoming memoir.
The partisan MRC is on fire. Too bad Graham doesn't see the irony.
Posted by Terry K. at 10:11 PM EST