WND Loves Allen West's Race-Baiting of Obama
Topic: WorldNetDaily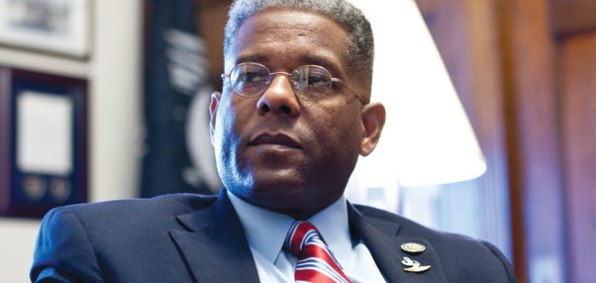 Bob Unruh writes lovingly of Allen West's race-baiting attack on President Obama in a Jan. 14 WorldNetDaily article:
War hero and former Republican congressman Allen West is asking how long it will take for "you people" – white Americans – to realize that their president "abjectly despises" them.

In a commentary posted Tuesday on his website, West, who represented Florida in Congress after an extended career in the U.S. military, confronted the issue of racism.

[...]

He said Obama's and Holder's advocacy for leniency for those who cause trouble essentially makes them racist.

"This is my clear and succinct message to white Americans. How long will it be before 'you people' realize you have elevated someone to the office of president who abjectly despises you – not to mention his henchman Holder. Combined they are the most vile and disgusting racists – not you," he wrote.

The commentary was prompted by Holder's recent demand that schools "rethink 'zero tolerance' disciplinary policies" because they "disproportionately punish minorities."

A Hill report on the issue said "alarming numbers of young people are suspended, expelled or even arrested for relatively minor transgressions like school uniform violations, schoolyard fights or showing 'disrespect' by laughing in class, Holder said during a speech."

West said the accompanying new federal guidance from the departments of Justice and Education "encouraging (i.e. threatening) schools to adopt disciplinary policies that are 'fair, nondiscriminatory, and effective'" is a threat from the Department of Justice.
Unruh says nothing about the racist language West is using, or why he deserves special dispensation for saying such things because he is a black conservative.
Then again, wouldn't WND embrace West's race-baiting? After all, it's of a piece with Colin Flaherty's fearmongering over "black mobs" (which, somehow also include non-blacks and non-humans). And it publishes Mychal Massie, who told blacks to go back to Africa and has repeatedly smeared a black woman he didn't agree with as a "Negress."
WND apparently thinks it can get away with racism as long as it's blacks who are saying racist things or blacks can be dismissed as evil thugs.
Posted by Terry K. at 3:25 PM EST
Updated: Wednesday, January 15, 2014 4:03 PM EST