Meet Marlin Newburn, Colin Flaherty's Race-Baiting Psychologist
Topic: WorldNetDaily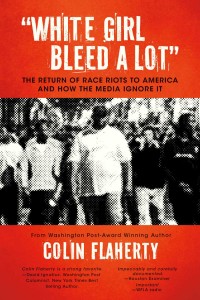 In a Jan. 8 WorldNetDaily article, Colin Flaherty quoted "former prison psychologist Marlin Newburn" to attack speeches made at a gathering of black legislators:
"This was one fascinating trip down insane memory lane," said Newburn. The black "caucus" just voiced re-tread, retro-sixties complaints about the difficult world they live in.

"The video is a great learning experienced for those who have never witnessed a unique pathological trait of the so-called "black community;" one that has been distorting their thinking for decades, and inhibiting their growth. The sick trait is that they have no problem publicly complaining about life conditions they have created for themselves. Maladapted adolescents do this often.

"As well, they sanctify the most pathological people and conditions, i.e., 'The Trayvon Martin Foundation.' That would be like white people setting up a scholarship program in memory of John Dillinger.

"At least they had a few hours to play dress-up, and praise each other as they engaged their fantasies of torment and abuse by the massive white hoards who they imagine seek their destruction."
Flaherty has quoted Newburn's race-baiting several times in his WND articles:
So who is Marlin Newburn, and how did he get so cozy with Flaherty? A web search turns up a report from the Michigan Civil Service Commission, where Newburn had appealed his demotion as a unit chief in the state Department of Corrections after a six-month probationary period. Newburn claimed that his demotion "was the result of harassment in the form of a hostile employment environment created by his former supervisor." The state responded that Newburn's demotion came as the result of a finding of neglect against him, in which a prisoner on a "modified suicidal risk management plan" who should have spent no more than seven days in an observation cell spent at least 17 days there, during which time Newburn should have visited with the prisoner eight times but did not visit under after the prisoner's 17th day in the observation cell. Newburn claimed that he was "overwhelmed by the responsibilities of the new position due in large part to the fact that his predecessor had failed to leave things in any semblance of order for him." The Civil Service Commission ultimately ruled that Newburn's demotion was proper.
The web also yields a review by Newburn on Amazon's page for the self-published version of Flaherty's book "White Girl Bleed A Lot," dated August 2012. He praises the "brutally honest book," going on to rant:
Journalism is pretty much accepted by many people as a now blatantly dishonest profession due to its acceptance as being an organ of the politically correct movement. But the "profession" has gone from being simply dishonest with its blatant promotion of anything Obama, to a form of pathology suitable for listing as a mental illness diagnositic category. Journalism's apparently ego-driven and thus resulting willful blindness to black mob assaults on innocents is now a national phenomenon, a psychological virus that has infected the news media across the country. A majority of inner city blacks will continue their descent into viciousness and barbarism, more people will be traumatized, maimed, or killed, and discussions on race will take a much harder and perhaps violent character, all because a reporter wants to be perceived as "caring" via a sick definition, because a reporter fears the label of "racist", because a reporter fears breaking ranks from the PC party dictates, or because a reporter fears the loss of a job. This is professional cowardism to the highest degree. Journalism's silence or willful blindness also tacitly legtimizes black mob racism. The fact is a large segment of an apparently untouchable racial group, already known for high risk living, violence, chronic failure, and overall dangerousness, is not held accountable for its newest violent activity which includes killing people who are targeted specifically because of their race.
Flaherty is shown responding to Newburn's review by asking him to repeat the comments on Flaherty's personal website. He apparently obliged.
A year later, Flaherty was quoting Newburn in his WND articles to supplement his race-baiting.
Posted by Terry K. at 12:35 AM EST