WND's Corsi Pens Hitler Conspiracy Book
Topic: WorldNetDaily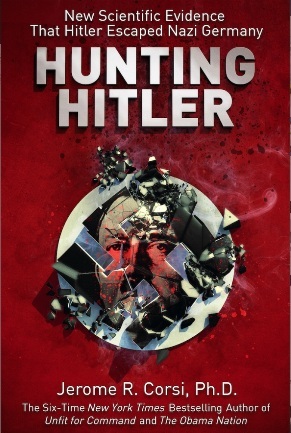 Last year, WorldNetDaily's Jerome Corsi tried to cash in on the 50th anniversary of John F. Kennedy's assassination by rehashing conspiracy theories about his death (parts of which were apparently plagiarized). Now, Corsi is doing the same for Adolf Hitler.
Corsi's new book, "Hunting Hitler," actually takes the opposite approach -- he tries to prove that Hitler didn't die in a Berlin bunker but escaped to South America. As a WND article tells it:
Everyone knows Adolf Hitler committed suicide by gunshot in his underground bunker on April 30, 1945.

At least, that has been the conventional wisdom.

Now comes WND senior staff reporter Jerome R. Corsi's new book, "Hunting Hitler: New Scientific Evidence That Hitler Escaped Germany."

Examining declassified FBI and U.S. military intelligence files, Corsi makes a compelling case that U.S. investigators suspected from the beginning Hitler had escaped. For political purposes, the evidence indicates, they were willing to go along with the cover story that in the final days of World War II, Hitler married his mistress, Eva Braun, and the two took their lives in a joint-suicide ritual just before the Soviet army entered Berlin.

But the truth is, no one actually saw Hitler commit suicide. There are no photographs documenting a joint suicide of Hitler and Eva Braun, and the bodies of the two were never recovered or preserved for positive identification.

[...]

In "Hunting Hitler," Corsi posits Hitler made his way to Argentina with the help of U.S. intelligence agents that had been secretly working with the Nazis since 1943. Allen Dulles, then an agent of the Office of Strategic Services, or OSS, the predecessor agency to the CIA, was communicating secretly with top Nazis from his office in Bern, Switzerland, Corsi said.
Interestingly, Corsi's employer apparently thought so little of this book that it passed on publishing it -- it bears the imprint of something called Skyhorse Publishing, whose other titles include a JFK conspiracy book by Jesse Ventura and a novel by porn star Jenna Jameson.
Given that Corsi remains such a committed birther that he has yet to acknowledge that Mike Zullo and his buddies in the Cold Case Posse have been utterly discredited -- as well as his propensity for failing to do even basic research -- it seems prudent to treat this book with the same hands-off policy his previous work has earned.
Posted by Terry K. at 1:57 AM EST