AIM's Kincaid: Apartheid Wasn't So Bad Because Mandela Wasn't Executed
Topic: Accuracy in Media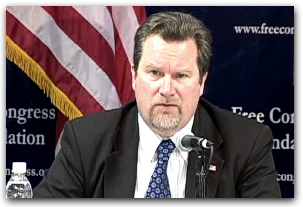 In a Jan. 3 Accuracy in Media column, Cliff Kincaid follows WorldNetDaily in taking post-mortem shots at Nelson Mandela that have the effect of whitewashing apartheid:
Referring to Nelson Mandela, Rove says he "spent 26 years in prison before emerging to end apartheid and serve as the first president of a multiracial South African democracy." However, Mandela's debt to Soviet communism, which armed his movement, went unmentioned in Rove's Wall Street Journal column. Rove also failed to note that the communists who run South Africa today counted Mandela as one of their own. The "democratic" South Africa of today is effectively a one-party state, and the white minority is under siege and facing genocide.

Rove writes that Mandela went "on trial for his life," neglecting to mention that he was convicted of terrorism and could have been hanged for his crimes. Instead, Mandela received a prison sentence. The white government was actually quite lenient and offered to release him if he would renounce violence and terrorism. He never did. His terrorism cost innocent lives.
So apartheid wasn't so bad because Mandela wasn't immediately executed? Is that what Kincaid is saying?
As WND did, Kincaid ignores what Mandela actually said in response to offers to free him if he renounced violence: that his freedom was meaningless if apartheid was still legal. While Kincaid laments the "innocent lives" taken by Mandela's "terrorism," he's silent on on the innocent lives taken as a result of South Africa's apartheid regime.
Posted by Terry K. at 12:59 PM EST