MRC Censors The Reason Climate Change Antarctic Researchers Are Stuck In Ice
Topic: Media Research Center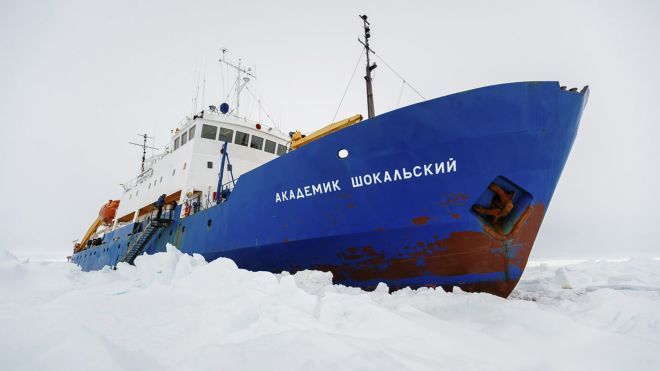 The Media Research Center has been trying to make some hay over a research ship stuck in ice in Antarctica because researchers on the ship were examining climate change.
P.J. Gladnick sneered in a Dec. 28 NewsBusters post: "Somewhere far, far to the south where it is summer, a group of global warming scientists are trapped in the Antarctic ice. If you missed the irony of that situation, it is because much of the mainstream media has glossed over that rather inconvenient bit of hilarity."
NewsBusters' Jeffrey Meyer joined in the mocking, insisting that there is "irony that this event is an embarrassment for those pushing the liberal 'climate change' narrative."
The MRC Business & Media Institute's Mike Ciandella huffed that "only one story out of 23 on the network morning and evening news shows mentioned that climate change had anything to do with the expedition." Ciandella followed that so-called bit of research by claiming that "nearly 98 percent of network news reports about the stranded researchers failed to mention their mission at all."
The MRC fails to mention, however, that the ship's predicament may in fact be a result of climate change. Fox News, shockingly, endeavors to tell the other side of the story:
The leader of a scientific expedition whose ship remains stranded in Antarctic ice says the team, which set out to prove climate change, is "stuck in our own experiment."

But Chris Turney, a professor of climate change at Australia's University of New South Wales, said it was "silly" to suggest he and 73 others aboard the MV Akademic Shokalskiy were trapped in ice they'd sought to prove had melted. He remained adamant that sea ice is melting, even as the boat remained trapped in frozen seas.

[...]

Turney later told FoxNews.com the ice surrounding his ship is old, rather than recently formed, and likely from a particular 75 mile-long iceberg that broke apart three years ago. Climate change may have prompted the iceberg to shatter and float into the previously open sea where the mostly Australian team finds itself stranded, Turney said.

"The ice was swept across to this area by the South-East wind, its pieces creating a knock-on domino effect," Turney told FoxNews.com, speaking from a tent erected on the stranded ship's top deck. "We were just in the wrong place at the wrong time."
Apparently, it's too much to expect from the MRC to tell the whole story or put the story in its proper context. But we knew that already.
Posted by Terry K. at 6:23 PM EST