WND's Monckton Keeps the Birther Faith
Topic: WorldNetDaily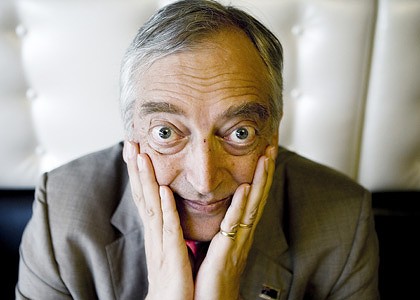 Even as WorldNetDaily has largely given up on promoting birther conspracies, WND columnist and foreigner Christopher Monckton (we refuse to call him "Lord," as he insists we do, because it's a title, not a name) has soldiered on in his rabid birtherism. Monckton rants in his Dec. 31 WND column:
In the House, there are probably enough votes to bring forward a bill to impeach Mr. Obama. Taking advantage of having gotten away with riding roughshod over the Constitution with his Donald Duck "birth certificate," he has bypassed a largely supine Congress time and again, from Benghazi to Soetero"care" to the tyrannical legislative powers wielded by the sinister, out-of-control EPA in flagrant defiance of Article I, Section 1, of the Constitution.

[...]

Here is my New Year's program for those justifiably antsy Republican members of the House who want to strike a final blow for liberty and democracy.

Step 1: Stop being panty-waists. A senior member of the House, whose opinions I have learned to respect, once told me that the real reason why no congressman has yet moved to set up a congressional inquiry into the self-evidently bogus "birth certificate" that festers to this day on the White House website is that they are terrified that the left will work night and day to trash the reputation of anyone who dares to question Mr. Obama's legitimacy.

[...]

For two reasons, the GOP caucus should get its wobbly bottom down to Phoenix and get itself up to speed on the investigation.

First, the chief investigator, Mike Zullo, is no longer making public the results of his inquiries. The initial findings were publicized to attract people with evidence to come forward. That tactic worked. It is now clear to the investigators that criminal charges will be brought. So they cannot compromise the coming prosecution by saying what they know.

Secondly, the sheriff has now called in professional, full-time detectives to supplement the unpaid volunteers who have, until now, doggedly worked unrewarded and unthanked. Joe Arpaio would never have taken that step unless he were very sure of his ground.
Monckton conveniently ignores all the evidence that debunks Arpaio, Zullo and other birthers -- among them John Woodman's book and the discovery that a document scanned into a Xerox WorkCenter 7655 office machine creates the same anomalies birthers have used as evidence that Obama's birth certificate is fake.
Zullo and Arpaio have yet to say anything about Woodman and the Xerox claims, which suggests that their so-called investigation is less than thorough.
Monckton also ignores the careless errors Zullo's investigation has made, which include fabricating evidence by using the wrong racial codes for Obama's certificate.
But then, facts and reality have never been something birthers like Monckton care much about.
Posted by Terry K. at 11:55 AM EST