WND's Corsi Touts Dubious Claim About Muslims Buying Christians' Blood
Topic: WorldNetDaily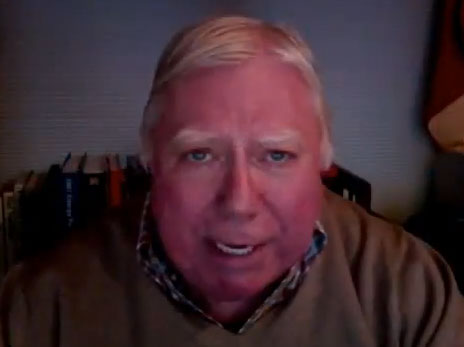 Jerome Corsi cranks up the luridness in a Jan. 1 WorldNetDaily article:
Atrocities by Syrian jihadist rebels have reached sensational new levels, according to a revered nun working with persecuted Christians and an explosive new video report.

Sister Hatune Dogan told WND in a Skype interview that members of the Syrian opposition are draining the blood of Christians they behead and selling vials to Islamic radicals for $100,000 a piece.

The Syrian Orthodox nun explained that the blood is used in a ritual washing of hands in the belief the act atones for sins and provides privileged access to heaven.

The Christians, she said, are beheaded in ceremonies in which they are forced to kneel, with their hands and feet bound, as the Muslim radicals read a death sentence imposed because the victim refuses to renounce Christianity and embrace Islam.

She detailed how the head of the victim is brutally severed with knives. The blood spurting from their necks is captured in basins and then bottled.

"The Muslims sever the necks and collect the blood in vessels to sell the blood. The Muslims believe that if they kill a Christian and wash their hands in the blood of the Christian, they will go to heaven," she explained.

She said the sale of the Christian blood "is a big business."
This being Corsi, he makes no apparent effort to fact-check Dogan's claims, which, given the luridness of the claims, he would want to. As Richard Bartholomew points out, there are many unanswered questions:
However, this story is so extraordinary it is reasonable to ask a few questions: who exactly is this man whom the nun met, and why has he not been punished for his confessed crimes? How has a "big business" trafficking bottles of Christian blood into Saudi Arabia managed to develop without any evidence coming to light? Also, while it's of course possible that a terrorist financier might want to vicariously participate in a killing in this way, there's no precedent for this "big business" in Islamic history, and Wahhabi fanatics reject religious practices that amount to "innovation".
Another red flag is that the story is being promoted by anti-Muslim activist Walid Shoebat, who has his own credibility problems. Corsi notes that Shoebat is "accepting contributions" for the nun "through a foundation he created for Hatune, RescueChristians.org" -- but Bartholomew notes that Shoebat has not claimed credit for this foundation.
But hey, since when has a complete lack of veracity kept WND from publishing anything?
WND editor Joseph Farah, meanwhile, demonstrates his disregard for journalism by using his Jan. 1 column to not only swallow Dogan's story whole but also repeat another unsubstantiated claim by Shoebat, then turn it all into an attack on the president he hates so much: "It's time for American Christians to get on their knees in repentance for what we have done. Our own sins are responsible for Obama."
Farah, of course, is responsible for WND's many journalistic sins, but we've never seen Farah on his knees repenting. He has no moral authority whatsoever to talk about this subject.
Posted by Terry K. at 9:32 PM EST
Updated: Thursday, January 2, 2014 9:41 PM EST