NewsBusters' Sheffield: 'Slut' Is A Tame Insult
Topic: NewsBusters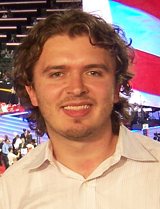 If you'll recall, Media Research Center employees condoned and even cheered on Rush Limbaugh's tirade of misoygny against Sandra Fluke last year. The MRC, it seems, just can't stop minimizing Limbaugh's offensive behavior.
The latest to do that is NewsBusters' Matthew Sheffield, who insists in a Nov. 26 post that Limbaugh's comments were "much tamer" than what Martin Bashir said about Sarah Palin. Sheffield further suggests that Limbaugh made only a single passing comment about Fluke that was not "deserving of wall-to-wall attention."
Let's review the record, shall we? Limbaugh made 46 separate personal attacks on Fluke over three days, and he apologized for only two of them: calling Fluke a "slut" and a "prostitute." Bashir, by contrast, made only one single statement about Palin, for which he apologized in a more profuse manner than Limbaugh did.
Sheffield goes on to complain that "Bashir has been neither suspended nor fired" for his remark, adding that "Journalists who were so quick to attack Limbaugh need to ask themselves why they aren't willing to hold Bashir accountable for his consistent pattern of using deliberately inflammatory language in a pitiful attempt to save his low-rated show from cancellation."
Not only did Sheffield's MRC colleagues demand that Limbaugh be punished for his insults against Fluke -- that might have something to do with the "William F. Buckley, Jr. Award for Media Excellence" the MRC gave him in 2007 -- the MRC actually launched an "I Stand With Rush" website declaring that Limbaugh's wholly inadequate apology was good enough but "the radical left will never accept it because they despise him and want him off the air."
If Sheffield is going to complain about hypocrisy, he might want to start with his own side first.
Posted by Terry K. at 3:29 PM EST
Updated: Friday, November 29, 2013 3:32 PM EST