Matt Philbin Has Issues
Topic: Media Research Center
As he established when he tweeted sleazy things about Sandra Fluke, the Media Research Center's Matt Philbin has issues with women who take birth control -- in his mind, they're nothing but sluts.
On Nov. 12, Philbin tweeted: "Then the birth control fairy came and gave all the good composite girls #hosurance, and they whored happily ever after."That came amidst a series of sneering, misogynist tweets about "hosurance."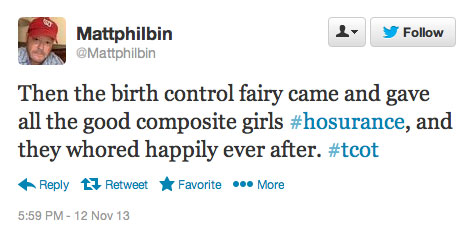 As the comment thread on theh tweet indicates, we attempted to pin down whether he thinks all women who use birth control are sluts or just all women who get their birth control through Obamacare, but we were not successful.
On Nov 20, Philbin's idea to "rebrand Obamacare" was the slogan "Insured girls are easy." Again, we tried to find out why he thinks women who take birth control are "easy," but Philbin refused to give a straight answer.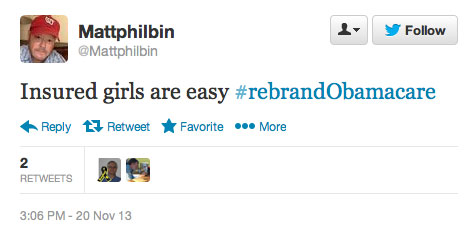 We'd question why the MRC continues to hire such a misogynist, but it appears that his continued employment there constitutes endorsement of his slut-shaming.
Posted by Terry K. at 10:50 PM EST