CNS Obsesses Over Obama Photo Shoot From 6 Years Ago
Topic: CNSNews.com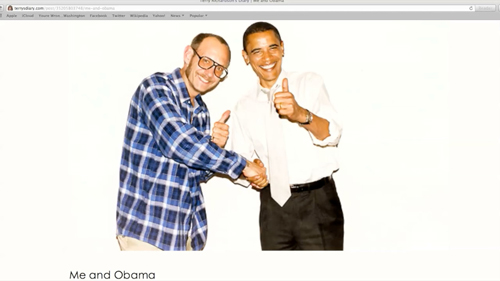 Yes, CNSNews.com really did devote a Nov. 21 article by Barbara Boland to this subject:
On June 20, 2007, then-Sen. Barack Obama (D.-Ill.), who was seeking the Democratic presidential nomination at the time, hosted a "portrait session" in his U.S. Senate office where he posed for and with Terry Richardson, a man already well-known, as the flyleaf of a coffee-table collection of his work put it, as the photographer who "took 1970s porn esthetic and made it fashion chic."
Not just your average article, mind you -- Boland cranks out nearly 2,000 words to complain about Richardson's photographic career, complete with pictures of photos from a Richardson artbook complete with pink sticky notes covering the naughty bits.
But why bother to do this article in the first place? This is the kind of desperate, petty guilt-by-association smear that belongs in the waning days of a campaign (like CNS' failed freakout over sexual content in novels written by Virginia Senate candidate Jim Webb in 2006, apparently unable to separate fiction from reality), not hurled at a president who won re-election and will never run for office again.
Boland made clear in her article that she really wants some answers to her petty attack, dammit:
CNSNews.com also sent the following questions to White House Press Secretary Jay Carney:

1) Was then-Sen. Obama's presidential campaign or Senate staff familiar with Terry Richardson reputation for "porn chic" photography before they scheduled Obama's 2007 "portrait session" with Richardson? If not, why not?

2) Does President Obama regret that the campaign let that "portrait session" take place?

3) Does President Obama believe that Terry Richardson's photography degrades women?

4) Given the credibility he helped give to Richardson by posing for and with him, do you believe President Obama should express regret for having done so given the sexually graphic nature of Richardson's photography and the way he presents women?

Despite several phone calls and e-mails over the course of four days, the White House did not respond.
Boland appears not tyo have considered the possibility that the White House saw her attempt to smear Obama for what it was and treated her inquiry with the lack of respect it deserved.
Posted by Terry K. at 10:28 PM EST