This Is WND-Published Book's 'Bombshell'?
Topic: WorldNetDaily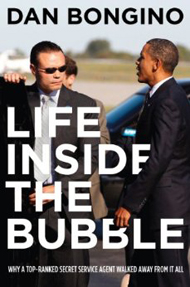 It's a "bombshell" claim from Dan Bongino, former Secret Service agent and current WorldNetDaily author, as articulated in a Nov. 18 WND article:
Dan Bongino, a former Secret Service agent and author of the brand-new book "Life Inside the Bubble: Why a Top-Ranked Secret Service Agent Walked Away From It All," is rebutting claims President Obama has received more security threats than any other U.S. president, due to his race.

"It's not true, it's been refuted over and over again, yet people continue to propagate this media meme to make America feel like it's a racist country," Bongino told WND.

He noted his assessment is "based on my direct, first-hand experience doing lead advances for the president and what the head of the Secret Service said himself in a sworn testimony."

[...]

In Bongino's opinion, the false assertion that threats against a sitting president are at an all-time high because of his race undermines the security of the president and causes time and resources to be wasted on frivolous claims.

"This isn't a harmless exercise, it's not just a political statement," Bongino said. "The left wants us to believe that we're a racist country to create division for political gain."

As that distorted image of America permeates the culture, he said, the Secret Service "starts getting reports like 'my white neighbor said he doesn't like Obamacare,' and they start calling this in as a threat."

Order your copy of "Life Inside the Bubble."

"This has a real tangible effect on allocated assets – it's a zero-sum game, he explained.
That's it? That's the big "bombshell" claim in Bongino's book?
It's such a "bombshell," in fact, that PolitiFact came to the same conclusion months ago.
If the best "bombshell" that WND can come up with is something that was reported months ago, the rest of Bongino's book must be really boring (in that it contains nothing but the standard right-wing Obama-bashing).
Posted by Terry K. at 2:10 PM EST
Updated: Thursday, November 21, 2013 2:11 PM EST