MRC's Graham, WND Push Bogus Obama-Gettysburg Address Non-Controversy
Topic: Media Research Center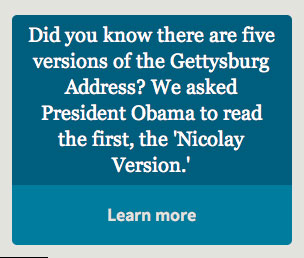 Media Research Center director of media analysis Tim Graham dutifully regurgitates right-wing propaganda in a Nov. 19 NewsBusters post:
Chris Plante at WMAL Radio in Washington reported on his show Tuesday that President Obama joined a cast of 61 "noted lawmakers, politicians, news anchors and celebrities, including every living President, in reciting the Gettysburg Address" for PBS star Ken Burns, who made "The Civil War" documentary series.

Everyone else delivered the address as Lincoln had written it, including the phrase, "that this nation, under God, shall have a new birth of freedom." But in his version of the address, President Obama omitted the words "under God." (Video below, at about 1:35.) Will the networks notice this gaffe?
WorldNetDaily, meanwhile, cut out the middleman and simply copy-and-pasted the WMAL article.
Just one little problem with this narrative: It's not exactly true.
In fact, Obama was reading the first draft (out of five) of the Gettysburg Address -- known as the Nicolay version -- which omits "under God." Documentarian Ken Burns, who put together the project of Obama and others reading the address, requested that Obama read that version, as the website for the project states.
The real question is not whether "the networks" will "notice this gaffe" -- it's whether Graham and WND (and WMAL) will correct their posts.
Posted by Terry K. at 1:05 AM EST