CNS' Jeffrey Still Pushing 'Amnesty' Fallacy
Topic: CNSNews.com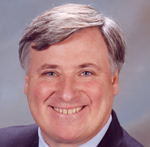 One of CNSNews.com's most biased behaviors (despite being operated by an organization that purports to fight against media bias) is portraying any immigration reform as "amnesty" regardless of what it is.
CNS editor in chief Terry Jeffrey keeps up the bias in a Nov. 6 article headlined "Obama: No Reason We Can't Do Amnesty Before End of Year." Needless to say, at no point does Jeffrey quote President Obama using the word "amnesty."
Jeffrey then tries to justify his improper usage of the word by writing:
Obama further said that providing an amnesty to illegal aliens--n.b. a "pathway to citizenship"--would grow the U.S. economy above "the growth that's already taking place," and reduce the federal deficit.
Wrong -- as we've documented, because Obama's proposed "pathway to citizenship" includes numerous conditions before citizenship would be made available, it is not, by definition, "amnesty."
As with his activism against Obamacare, Jeffrey has simply stopped caring enough about the truth that he can no longer be bothered to report facts. In other words, he's starting to turn into Joseph Farah.
Posted by Terry K. at 5:38 PM EST