WND Pushes Last-Minute Attacks In VA Governor Race, Makes Stealth Endorsement
Topic: WorldNetDaily
WorldNetDaily is making a last-minute push in the Virginia governor's race, unloading a barrage of stories attacking Democrat Terry McAuliffe while ignoring the scandals of his Republican opponent, Ken Cuccinelli.
Garth Kant has penned a trio of anti-McAuliffe stories in the past day and a half:
One article complains that McAuliffe "has been at the center of major scandals during every step of his career, though he's never been charged," but doesn't conclude that that's because he hasn't done anything illegal.
Another article recycles the "never been charged" lede of Kant's earlier article and cites a clearly biased source to detail McAuliffe's "latest pair of scandals." As with the earlier article, Kant talks to nobody who offers any rebuttal of the "scandal" claims.
A third article by Kant repeats an undocumented claim by a Republican lawmaker in Virginia who claims he received a "robo-call" by the Democratic Party of Virginia stating that Cuccinelli supports Obamacare.
None of Kant's articles, however, mention the scandal that has embroiled Cuccinelli: Along with current Virginia Gov. Bob McDonnell, Cuccinelli has received thousands of dollars in donations and personal gifts from a major Republican donor, Johnie Williams. Like McAuliffe, Cuccinelli has apparently done nothing illegal, but Kant apparently doesn't believe his readers need to know the full truth about Cuccinelli.
Perhaps that's an editorial decision that comes straight from the top. On Nov. 4, WND sent out an email containing Kant's first attack on McAuliffe, topped by an endorsement of Cuccinelli from WND editor Joseph Farah: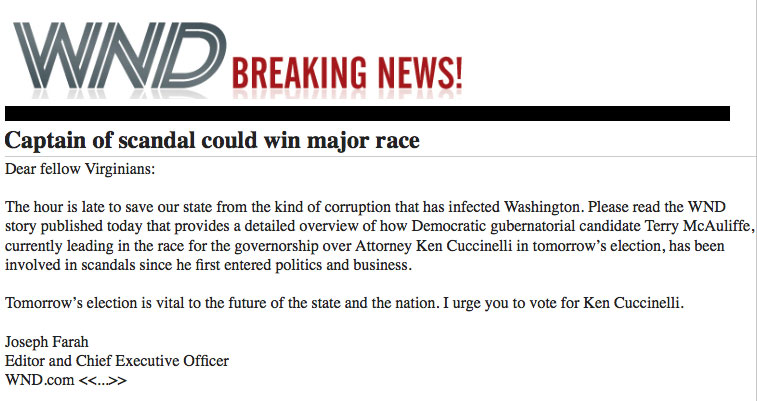 The hour is late to save our state from the kind of corruption that has infected Washington. Please read the WND story published today that provides a detailed overview of how Democratic gubernatorial candidate Terry McAuliffe, currently leading in the race for the governorship over Attorney Ken Cuccinelli in tomorrow's election, has been involved in scandals since he first entered politics and business.

Tomorrow's election is vital to the future of the state and the nation. I urge you to vote for Ken Cuccinelli.

Joseph Farah
Editor and Chief Executive Officer
WND.com
The email does not explain whether this was a paid endorsement or a in-kind contribution to Cuccinelli's campaign. WND rarely does endorsements, and even more rarely sends one out via email that it didn't also publish on the WND website.
The strange nature of this stealth, last-minute endorsement, on top of Kant's barrage of last-minute dirt, brings up the question of whether there is some form of coordination between Cuccinelli's campaign and WND. Perhaps Farah can explain.
Posted by Terry K. at 7:40 AM EST