WND's Kupelian Goes Transgender-Bashing
Topic: WorldNetDaily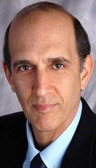 David Kupelian's Oct. 13 WorldNetDaily column is a lengthy anti-transgender screed. He's quite unhappy that the new DSM-V treats transgenderism as a "dysphoria" and not a "disorder," he demonstrates a fundamental misunderstanding of transgenders, declaring that they're nothing more than people "who want to cut off healthy breasts and genitalia in pursuit of "gender transition," and he likens efforts to de-stigmatize transgenderism to a hypothetical "anorexia rights lobby" that "pushed relentlessly to de-pathologize anexoria, proclaiming it perfectly normal for some girls, though in danger of dying from starvation, to go on starving themselves so as to satisfy their inner feeling that they were fat."
Then, apparently because he hadn't gone far enough in degrading transgenders, Kupelian likens them to suicide bombers:
Consider for a moment how children in the Arab-Muslim Middle East develop the "mental illness" of wannabe jihad martyrdom. How exactly do innocent little kids come to be possessed by such overwhelmingly powerful emotions and beliefs that they're willing to blow themselves up while murdering innocent strangers – and thinking such a despicable crime is the will of God?

If I suggested genetics or biochemical imbalances were responsible, you would laugh. Little jihadists are created when, from an early age, they are continually indoctrinated, intimidated, degraded, rewarded, tempted, lied to, punished, threatened and praised (for reinforcement) – until their little developing minds and emotions are not their own anymore. They have a new implanted identity, very different from the one they were born with.

So, if the forces in one child's home can transform him so totally that, when he looks in a mirror, he sees someone who feels like killing infidels and himself in a glorious "martyrdom operation," couldn't the forces in another child's home (perhaps much more subtle, but nevertheless powerful) transform him or her into a person with feelings and attractions he likewise was not born with – including homosexual or transgender feelings? Many lesbians, as a matter of fact, confess they hated their cruel or abusive father and therefore couldn't bond to a man later in life. Why is this so hard to understand?
From there, it's on to ... Voldemort:
Most ironic and unfortunate of all, this particular issue – this revolutionary sexual anarchy movement, which more than any other ideology, including Marxism, Islam or atheism, has the potential of permanently corrupting our nation's core "operating system" called the family – is the one issue that almost everybody is afraid to confront.

Like Voldemort, the arch-villain so feared by everyone in the "Harry Potter" stories that they "dare not speak his name," almost no one – not Democrats, not Republicans, not churches, not the media (including Fox News), not talk radio (unless explicitly Christian conservative), not even the big alternative news websites, with the exception of WND – dares speak of it.

But be warned, intimidation is the No. 1 tool of would-be tyrants. Not only can it make us shut up from fear, it can – without our realizing it – cause us to change our own beliefs and side with the adversary, and we will never know what hit us. Until it's too late.
On top of that, he touts a sketchy bit of research:
Close to half of all homosexual men have been molested by an older man, according to the peer-reviewed "Archives of Sexual Behavior," which reports, "46 percent of homosexual men and 22 percent of homosexual women reported having been molested by a person of the same gender."
But as the Center for Inquiry points out, the study Kupelian cites was non-clinical; the data concerning homosexuals was gathered by setting up an interview booth at a gay-pride parade, while the data for heterosexuals was gathered at a college. Further, psychology professor Warren Throckmorton found significant contradictions in the study between the data and the discussion sections.
Interestingly, Kupelian didn't link to the study itself but, rather, a WND column by professional gay-basher Matt Barber as evidence of its findings.
Posted by Terry K. at 1:37 AM EDT