WND's Kinsolving Repeats Dubious Anti-Gay Attack
Topic: WorldNetDaily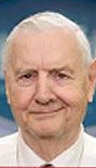 Les Kinsolving dug deep into his homophobia again, using his Oct. 7 WorldNetDaily column to repeat a story about a "Christian airman," Phillip Monk, who was allegedly punished by his "lesbian commander" for expressing opposition to same-sex marriage. Kinsolving ranted:
What is the name and rank of Master Sgt. Monk's company commander, who Breitbart identified only as "a lesbian" who issued the "order to say he supports gay marriage"?

Most unfortunately, this incredible and commissioned alternatively sexually oriented female is unidentified in this news story.

She, in my opinion, ought not only be identified, but court-martialed for assaulting a noncommissioned officer's First Amendment rights.
In fact, as Kinsolving mentions in passing, Monk faces punishment for making false statements about the incident -- namely, that he claimed he was reassigned from his job because of it. Kinsolving makes no mention at all of the fact that Air Force officials claim Monk was due for a new assignment and was not punished.
Kinsolving is living up to our prediction that he would spend his retirement as WND's White House correspondent hating gays even more than he does.
Posted by Terry K. at 3:00 PM EDT