AIM's 'Citizens' Commission' Member Conspiracy-Mongers About Terrorist's Capture
Topic: Accuracy in Media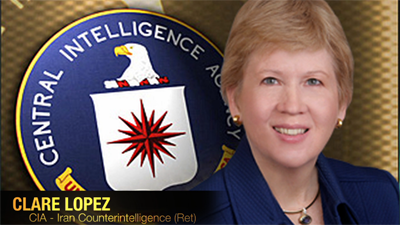 Clare Lopez is one of the members of Accuracy in Media's "Citizens' Commission on Benghazi." She doesn't appear to be a birther like several other commission members, but she's a supporter of the the MEK, an Iranian exile group that until recently was considered a terrorist group by the U.S. government.
Lopez is also prone to conspiracy-mongering, as an Oct. 7 AIM column demonstrates. In it, Lopez claims there's something suspicious about the timing of the U.S. capture of Al Qaeda operative Abu Anas al-Libi:
In any case, according to CNN, before the end of 2010, al-Libi somehow made his way back to Libya, just in time for the February 17, 2011 outbreak of the revolution. In December 2010, Libyan authorities even provided the UN Al Qaeda Sanctions Committee a street address for him in downtown Tripoli.

The August 2012 Library of Congress study, "Al-Qaeda in Libya: A Profile," suggests that al-Libi's role in Libya was coordination between Ayman al-Zawahiri and AQ Central and the Libyan militias.

By the time that U.S. career diplomat Christopher Stevens was named official U.S. Liaison to the Libyan rebels in mid-March 2011, AQ-LIFG fighters like al-Libi, Ben Qumu and Belhadj were leading the revolution against Qaddafi. Stevens' job was to coordinate U.S. diplomatic, intelligence, logistical, military and weapons support to al-Qaeda jihadis such as these. The pending NYC Federal District Court indictment against al-Libi for the 1998 Nairobi Embassy bombing would just have to wait.

And wait it did … until a random day in early October 2013, when the U.S. government suddenly decided that it needed, urgently, to snatch an unsuspecting al-Libi off the street in Tripoli, where he had been living since the end of the Libyan revolution with his wife and four children.

Soon, Secretary of State Kerry was crowing about how terrorists "can run but they can't hide" – but the thing was, al-Libi hadn't been running or hiding for a long time. The U.S. knew perfectly well where he was for at least the prior two years — and didn't seem to care.

[...]

Al-Libi's seizure now makes as little sense as did the apparent U.S. and UK indifference to his outstanding Nairobi indictment and his jihadist credentials for all the years that preceded it.
The fact that Lopez is so quick to conspiracy-monger about al-Libi's capture is yet another sign that AIM's "Citizens' Commission" is nothing but a kangaroo court.
Posted by Terry K. at 1:23 PM EDT