CNS' Jeffrey Now Just Flat-Out Deceiving His Readers
Topic: CNSNews.com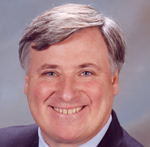 Terry Jeffrey isn't even bothering to engage in honest journalism anymore.
Jeffrey's Oct. 8 CNSNews.com column caries the headline "Obama Administration Prohibits Kennedy Family from Practicing Catholicism." It begins:
The Obama administration has prohibited the Kennedy family from practicing its Catholicism, and the Kennedys now intend to ask the Supreme Court to restore their First Amendment right to the free exercise of religion.

Their case could become one of the most consequential in our nation's history. The issue: Will the most fundamental liberty of all--freedom of conscience--survive in post-Obama America?
It's not until the third paragraph that Jeffrey mentions it's not that Kennedy family:
John Kennedy serves as president of Autocam and Autocam Medical, Michigan-based companies that produce automobile components and medical devices. He and his family own the companies, which employ 661 people in the United States.
That's deception and manipulation of the most base and cynical kind.
On top of that, Jeffrey repeats the discredited myth that Obamacare pays for "abortions induced by drugs."
What kind of example is Jeffrey setting for his CNS employees? It's clear that Jeffrey no longer cares about using the website he runs to tell the truth -- if, indeed, he ever did.
Posted by Terry K. at 1:48 PM EDT