MRC Doesn't Like That Its Shutdown-Blame Study Is Being Mocked
Topic: Media Research Center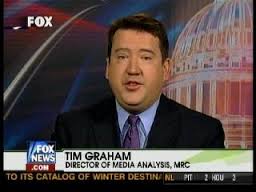 Remember how the Media Research Center complained because Republicans were accurately being blamed for the government shutdown? Now the MRC is complaining because it's being mocked for coming to that conclusion.
Tim Graham writes in an Oct. 4 NewsBusters post:
Jon Stewart "stooped" to publicizing a Media Research Center study last night on "The Daily Show." Actually, he mocked an MRC study by Rich Noyes as adding a bucket to Fox's "Bull[bleep] Mountain."

Ah, yes, Jon Stewart, the man who said "Crossfire" was ruining America with its harsh partisan talk and held a "Rally for Sanity" with his keynote address announcing "We can have animus and not be enemies." Apparently, blaming Republicans for the shutdown is like blaming floods on water[.]
Like MRC "study" author Rich Noyes before him, Graham doesn't address why it's wrong to blame Republicans for the shutdown -- he's just complaining that it's being done, because defending Republicans is his job.
Posted by Terry K. at 1:30 PM EDT