WND's Farah Will Have Another Chance to Repent Next Year
Topic: WorldNetDaily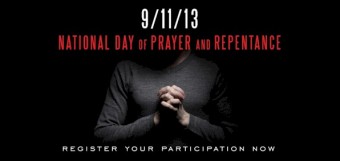 Joseph Farah's "National Day of Prayer and Repentence" is coming back next year:
After the success of this year's 9/11 National Day of Prayer and Repentance, WND CEO Joseph Farah is pledging to continue the work next year.

"By any standard, the National Day of Prayer and Repentance September 11 was an unprecedented success," said Farah, who conceived the idea along with messianic rabbi Jonathan Cahn, the author of the bestselling "The Harbinger."

"In only a few months, with the help of the Holy Spirit, it appears the effort mobilized hundreds of thousands, perhaps millions of believers, to pray for the healing of our nation by repenting of their own sins. This has so encouraged me that we will immediately begin work on making the Sept. 11, 2014, bigger and better," Farah said.

More than 1,000 churches and 250,000 individuals participated in the 2013 events and several celebrities, such as Chuck Norris and Charlie Daniels, endorsed the day as a way for America to rejuvenate itself spiritually.
Farah, of course, offers no proof that 1,000 churches and 250,000 individuals took part. And certainly there is some standard that would find the day to be something less than an "unprecedented success."
Most importantly, Farah has failed to tell his readers whether he used the day to repent for the numerous sins he has committed against President Obama in the form of the lies and misleading claims that have been published on his website over the past five or so years.
Well, perhaps Farah can do that next year, now that he's giving himself another opportunity to do so.
Posted by Terry K. at 8:22 PM EDT