MRC Unhappy All Muslims Aren't Being Blamed for Terror Attacks
Topic: Media Research Center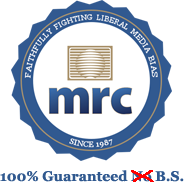 The author of a Sept. 23 Media Research Center item appears to be a little sheepish about her work because it lacks a byline. (The version of it on NewsBusters, however, indicates it was written by Katie Yoder.) And we can see why, given the utter stupidity of this so-called "media research." Here's how it starts:
Dare a top newspaper journalist to play connect-the-dots and chances are he'll fail miserably – at least with drawing the line between Islam and terrorism. In Nairobi, Kenya last weekend, Islamist militants took over a high-end shopping mall and began executing non-Muslims. In Pakistan, Islamist suicide bombers detonated at a Christian Church on Sunday.

Yet on Monday, September 23, 90 percent of the top ten (via circulation numbers) daily newspapers' headlines in the United States censored the words "Islam" and Muslim" from Nairobi and Pakistan reports. One – the New York Daily News – didn't even have a headline for the latest Islamic terrorist attacks. That's journalism at its finest.
That's right -- Yoder is complaining that the media isn't playing guilt-by-association by linking all Muslims to terrorists. That's religion-baiting at its finest.
If that's the way the MRC operates, may we suggest Yoder's next assignment: Count how many newspaper headlines labeled Scott Roeder, murderer of abortion doctor George Tiller, as a "Christian."
Posted by Terry K. at 5:34 PM EDT