CNS Still Keeping Its Obama-Bashing Afghan War Body Count
Topic: CNSNews.com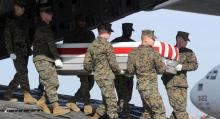 Since President Obama took office, CNSNews.com has been obsessed with monthly body counts of the U.S. troops that died in Afghanistan, despite the fact that it did no such body count of troops killed in Iraq under President Bush.
CNS had abandoned the body count in recent months, but it's back with a vengeance with a Sept. 11 article by Dennis M. Crowley:
Twelve years ago today, nineteen al Qaeda terrorists hijacked four U.S. commercial airliners and flew them into the World Trade Towers, the Pentagon and a field in Pennsylvania.

In the war that Congress authorized against al Qaeda only three days after that attack, the vast majority of the U.S. casualties have occurred in the last four and a half years during the presidency of Barack Obama.

In fact, according to the CNSNews.com database of U.S. casualties in Afghanistan, 73 percent of all U.S. Afghan War casualties have occurred since Jan. 20, 2009 when Obama was inaugurated.

The 91 U.S. casualties in Afghanistan so far in 2013 are more than those that occurred in the first two full calendar years of the war (2002 and 2003) combined, when 30 and 31 U.S. troops were killed there.
In blaming Obama for the vast majority of Afghan troop deaths, Crowley mentions President Bush only once, to state that "569 U.S. military personnel were killed in and around Afghanistan fighting in Operation Enduring Freedom" under his presidency, and he makes no mention of Iraq at all, let alone the fact that the vast majority of the 4,000-plus U.S. troops killed in Iraq died under Bush.
Crowley also fails to mention the fact that there were far fewer troops in Afghanistan under Bush than there were under Obama, which accounts for the lower Bush body count. According to PolitiFact, the number of troops in Afghanistan under Bush rarely exceeded 20,000 and typically hovered around 10,000. By contrast, the Afghan surge under Obama topped out at around 90,000 troops.
Of course, CNS has typically ignored context in doing its Afghan body counts, so why would it stop doing so now?
Posted by Terry K. at 10:42 AM EDT