WND's Farah Lies About Existence Of 'Epidemic' Of 'Black Mob Violence'
Topic: WorldNetDaily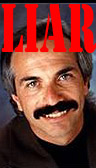 Joseph Farah's Sept. 9 WorldNetDaily column is a response to a "devoted WND visitor" who is tired of WND's obsession with "constantly running stories about black-on-white violence." Let's break down Farah's response, shall we?
First he responds:
Are there heinous examples of white-on-black violence in America today? Of course. There are 350 million Americans. Are WND reporters and editors uninterested in covering white racial violence when it rears its ugly head? Of course they are interested, willing and eager to report it.
Note that Farah does not provide an example of "white racial violence" WND has covered recently.
Farah then goes into a full-tilit defense of WND's race-baiting campaign:
One of the many disturbing trends the rest of the media have ignored over the last two or three years is the rapid escalation of black mob attacks on whites. I would characterize it as an epidemic of violence – racially motivated violence usually involving multiple attackers.

Because other news agencies are not reporting these incidents, it is literally impossible for Americans – black or white – to understand the problem or to come to grips with the truth. There's no doubt the absence of honest reporting by others spurred WND's conscious decision to report the trend, and, more importantly, to illustrate it frequently with coverage of individual attacks, usually supplemented with video.

In addition, WND is publishing the book that brought this trend to our attention as well as to the attention of many distinguished black Americans who are as alarmed about them as I am. That would be Colin Flaherty's "White Girl Bleed A Lot," now available as an e-book and soon, for the first time, as a paperback with national distribution.
In fact, Neither Flaherty nor Farah -- let alone or anyone else at WND -- have ever provided any statistical evidence that there is an "epidemic" of "black mob violence" in the U.S. All Flaherty has done is cherry-picked anecdotal examples of "black mob violence" -- which, as we've noted, includes dogs and white people -- in order to create fear among WND's predominately white and elderly audience that blacks are scary and out to rob and/or kill them.
But Farah wasn't done defending WND's race-baiting:
Is it racism that motivates me to do this? Yes, but not my racism. We're reporting on an outbreak of black racism and violence that others are afraid to recognize and report – probably in part because of the fear of being labeled racist. We don't report it to exploit it. We don't report it to sensationalize it. We don't report it to fan the flames of racism. We report it because when cruelty and hatred and violence go unnoticed, they go uncorrected, unchallenged and unaddressed.

Is a white person who is victimized by violence motivated by black racism any less a victim? When we see a pattern of escalating racial violence of this kind, is it not justified and appropriate and even our moral responsibility to expose it? That's the way we overcame white racial violence a generation ago, and I believe we will not overcome black racial violence unless we approach it the same way.
Farah is simply lying that WND doesn't "sensationalize" or "exploit" its race-baiting. Type in the word "black mob violence" into WND's search engine and see what comes up -- and see how sensational the headlines are:
WND doesn't "sensationalize" or "exploit" its race-baiting? Please.
The fact that Farah thinks he can get away with telling such a bald-face lie is yet another reason why nobody believes WND.
Posted by Terry K. at 12:47 AM EDT