MRC Upset Networks Won't Report Right-Wing Spin on Benghazi
Topic: Media Research Center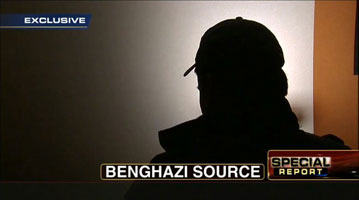 Geoffrey Dickens has penned the latest not-so-special report from the Media Research Center:
Wednesday marks the one year anniversary of the 2012 attack on the U.S. embassy in Benghazi that left Ambassador Chris Stevens and three other Americans dead, and sent the Obama administration scrambling for a cover story that the Big Three broadcast networks initially bought and were slow to unravel.

A similar pattern has emerged in 2013. As new information about the administration's actions before and after the attacks have been revealed through congressional testimony, whistleblowers, and eyewitnesses, the Big Three have responded by censoring, breezing past or spinning politically damaging bombshells.
Translation: The networks won't report our anti-Obama right-wing spin on Benghazi.
For instance, Dickens highlights how Fox News provided "bombshell testimony" from an anonymous "insider" whistleblower about how "the U.S. had highly trained forces just a few hours away" from Benghazi but did not send them. In fact, the "insider" sasid nothing that wasn't already known or hadn't been debunked; contrary to his claim, experts say that military assets could not have reached Benghazi in time to make a difference.
Dickens also touts a book claiming that officials immediately recognized the Benghazi attack as an act of terrorism, which supposedly "refute days of claims by the administration that the attack was sparked by Muslim anger at a U.S.-made anti-Muslim film." In fact, book co-author Samuel Katz said in a Sept. 7 Fox News interview:
KATZ: I don't think there was ever a denial that it was a terrorist attack. I think the confusion stemmed from the perspective of what was the motivation behind the attack.

[...]

But that morning throughout north Africa, there were spontaneous attacks [linked to the anti-Muslim video]. And in the morning, there were tens of thousands of protesters around the U.S. embassy in Cairo, and there's nothing that all the security in the world can do to prevent 25,000 people from storming a facility and killing people. So there was great concern in Washington that in Cairo, in Tunis and Rabat that there were attacks that were transpiring. So when word came down about Benghazi, the thought was -- because nobody knew who the people behind it were -- but the thought was that these were people related to theprevious demonstration, and only after the fact did we realize and learn that this was something a bit more sophisticated.
And so on. Dickens is not offended that the truth is not being reported. He's offended that what's being reported lacks a right-wing ideological spin.
Posted by Terry K. at 10:31 AM EDT