WND's Race-Baiting Fail
Topic: WorldNetDaily
WorldNetDaily really wants us to know that black kids killed another white person.
In an unbylined Aug. 20 WND article headlined "Police: Black Teens Kill White Man 'For Fun,'" we are told that Australian baseball player Chris Lane was killed in Oklahoma "by three black teenagers who simply 'wanted to see someone die.'"

WND included a picture of who it claimed were the suspects: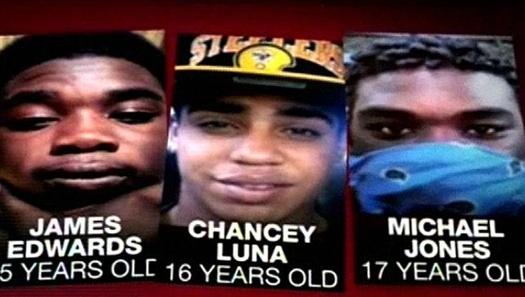 Gosh, they sure look black, don't they? That's very much in line with WND's fearmongering over "black mobs" that it has given Colin Flaherty
space
to
peddle
over the past year or so.
But it appears WND was too enamored of its race-baiting prospects to tell the truth. Compare WND's picture of Michael Jones to the picture of jones posted at numerous other news sites:
Not only does the real Jones not look anything like WND's version of him, he's pretty clearly not black.
Will WND correct its story? Or does it consider Jones to be an honorary black person because he (allegedly) took part in a murder?
UPDATE: WND has quietly updated the story with new photos of the suspects and deleted any mention of the suspects' race -- even changing the headline to "Teens kill baseball player 'for fun.'" WND has not alerted its readers to the fact that the article has been corrected.
The change, however, undercuts all the race-baiting that has been going on in the comment thread on the article.
UPDATE 2: Despite the fact that WND changed the story (without telling readers, of course), WND's Twitter account is still promoting the original race-baiting headline several hours after the fact:
Posted by Terry K. at 7:53 PM EDT
Updated: Wednesday, August 21, 2013 10:08 AM EDT