MRC's Dan Joseph: My Speculation About Transgenders Is Totally Accurate!
Topic: Media Research Center
Last week, Media Research Center videographer Dan Joseph embarrassed himself last week by pretending to be a transgender woman -- which, in Joseph's case, meant dressing in gym clothes and talking with a lisp, while still wearing his goatee -- and asking to use the women's locker room, all for the purpose of mocking a new transgender-rights law in California. Joseph's callous mocking has drawn the ire of transgender advocacy groups.
Now, Joseph is trying to defend himself. In an Aug. 19 tweet aimed at Media Matters' examination of his video -- which points out that "Transgender women don't typically walk around in men's clothing will full faces of facial hair. They don't typically refer to themselves as 'a transgender.' And they certainly don't stand outside of women's restrooms announcing themselves and asking passerbys for permission to "go in there... and change and shower and stuff" -- Joseph responds: "mmfa takes on my video on transgender bathroom law.But nothing inaccurate about our description of laws potential."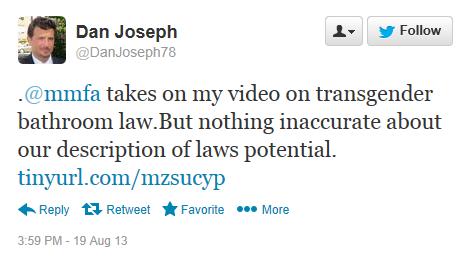 Huh? Speculation -- which is what "potential" is -- is neither accurate nor inaccurate. It's just speculation.
Also notice that Joseph makes no effort to apologize for his crude mockery of transgenders, something that is also missing from the remainder of his Twitter account. But given that his fellow MRC co-workers have transgender freak-outs on a surprisingly regular basis as part of their anti-gay agenda, such lack of common decency is to be expected from Joseph.
Posted by Terry K. at 12:10 PM EDT