No, Joseph Farah, 'The Newsroom' Is Still Right: WND Makes Stuff Up
Topic: WorldNetDaily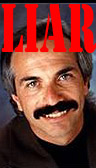 It was inevitable: Joseph Farah has devoted a column to WorldNetDaily's cameo appearance in HBO's "The Newsroom," with all the usual thin-skinned ranting and dishonest defense that implies:
Now, talk about irony: WND boasts among its full-time reportorial staff two reporters who are experts on Islamic terrorist groups. More than that, they are the only two reporters in the world who regularly talk to Islamic terrorists. One of them, Aaron Klein, a multiple New York Times best-selling author, wrote a book about his experience called "Schmoozing With Terrorists." No reporter at any other news organization in the world could write such a book, because no reporter at any other news organization does it. (WND boasts the only two.) Take my word for it: Our guys are the least likely journalists to be fooled into reporting about a fake terrorist organization.
Except, of course, that they have. As we pointed out in WND's previous attack on "The Newsroom," Klein falsely accused the charity Islamic Relief of having terrorist ties and raising money for nonexistent orphans. Or did Farah forget about that because the article was purge d from the WND website and replaced with a retraction so legalistic it sounds like it was written by attorneys in a desperate attempt to avoid a libel lawsuit from Islamic Relief.
Farah continues by asking, "Want some more irony?" Sure, why not? Lay it on us, Joe:
The plot line mirrors closely an actual journalistic faux pas committed by another news organization some might consider a competitor to WND. Last February, Breitbart.com ran a bogus story reporting an allegation that a group named "Friends of Hamas" had donated money to organizations connected to Chuck Hagel, who was then under consideration for secretary of defense. While Hagel had plenty in his background for which he should be ashamed, there was no such group as "Friends of Hamas." Again, this is not a mistake WND could possibly make, given the expertise of our reporting staff.
Meanwhile, WND has made the mistakes of treating an April Fool's story as real, hyping a bogus "Kenyan birth certificate" for Barack Obama, and made a claim about Obama that was so bogus even fellow birthers were compelled to shoot it down -- among many other mistakes. Oh, and spent seven years fighting a defamation lawsuit from a man who WND smeared as a "suspected drug dealer" before abruptly flip-flopping before the case was to go to trial and retracted the claim in an out-of-court settlement.
Farah has even more irony to spread:
The irony and absurdity doesn't end there, sadly. HBO is the same cable network that in 2012 became infamous for a show called "Game of Thrones," which featured a prop of the severed head of President George W. Bush on a stick. Even HBO was forced to apologize for that episode.
Remember that Farah runs a website that placed Hillary Clinton's autobiography in a bookstore's science-fiction section and portrayed Obama as the Antichrist. Funny, we don't recall Farah apologizing for any of that.
And how's this for irony? Joseph Farah, who's complaining that HBO "had to make up mistakes committed by us," has been caught telling lie after lie after lie.
Speaking of lies, Farah tells another one here:
Earlier in the episode, another character in the show disparaged WND with the following line: "Keeping in mind that WorldNetDaily reported that Obama murdered his gay lover." Of course, that slur, too, was a complete fabrication.
Farah has also apparently forgotten that WND posted an Oct. 12, 2012, article by Jerome Corsi with the screaming headline "TRINITY CHURCH MEMBERS REVEAL OBAMA SHOCKER!" in which it is strongly hinted that Obama played a role in the deaths of at least one gay man who "was murdered to protect Obama."
The score? "The Newsroom" 1, WND 0.
Posted by Terry K. at 5:30 PM EDT
Updated: Monday, August 19, 2013 5:37 PM EDT