Joseph Farah's Descent Into Depravity
Topic: WorldNetDaily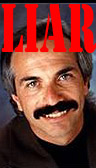 Joseph Farah writes in his Aug. 14 WorldNetDaily column:
This column is inspired by a commentary by Rush Limbaugh last week.

I've written columns like this frequently over the last 20 years, but Rush coined a phrase last week, probably without even realizing it, that says it all: "The descent into depravity."

He didn't actually string those words together, but he came close. So I'm going to do it for him today.

[...]

Rush used the word "depraved." He also described the news item as an example of the way "the descent our culture is taking [us] toward the sewer." All of this is very accurate.

But we should recognize it for what it is: "The descent into depravity." Of course ugly, sinful, immoral and repugnant behavior has been going on since Genesis. But today, it's normal. It's not even news.

And that's how a nation, a culture, a society descends into depravity.
Of course, Farah will never tell you about his own descent into depravity. That's because, like any good depraved person, he portrays his depravity as virtue.
For the past five years, Farah and his website have been engaged in the attempted personal destruction of Barack Obama by any means necessary. Farah doesn't care whether what he publishes about Obama is true -- he cares only that it takes down the president. All he has achieved thus far is turning his own website into a laughingstock that no sentient person believes, catering only to an extremely narrow audience of Obama-haters and conspiracy theorists.
Later this month, WND Books is releasing the new anti-Obama book from Aaron Klein, which purports to make a case for impeaching Obama. If it's anything like WND's previous attempt at such a book, it will be slipshod, ridiculously biased, and factually inaccurate.
And even if it's not, Klein's book will carry no weight in the marketplace because it is a product of a WND reporter that is published by WND -- in essence, a vanity publication.
That is the result of Farah's descent into depravity. But Farah will tell you that this is not only virtuous, it's patriotic. And he will tell you that he's the one person who's qualified to lead a "national day of prayer and repentance," all while acting like he has nothing to repent.
That's how depraved Farah is.
Posted by Terry K. at 8:54 AM EDT