'The Newsroom' Is Right: WND Makes Up Stuff
Topic: WorldNetDaily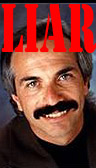 Joe Kovacs uses an Aug. 12 WorldNetDaily article to channel his employer's displeasure at being depicted in HBO's "The Newsroom" as having published a fabricated story. It includes the usual thin-skinned response from WND chief Joseph Farah:
WND's real-life CEO Joseph Farah commented on HBO's targeting of his news agency, saying:

"I don't watch HBO or subscribe to it because of the way it exploits women with pornographic content and corrupts minds with salacious programming. But I've read the description of this episode of 'The Newsroom,' and have the following comments based on that: Too many Americans are getting their news and opinions from purely entertainment shows today. And HBO is apparently attempting to jaundice people's opinions of the first and largest independent Internet news agency with episode 5 of the second season of 'The Newsroom,' which mischaracterizes WND in a subplot that dominates a third of the show.

"But here's the irony of ironies: Here's a TV show about a fake newsroom accusing a real newsroom of making up stories. Hello? I've spent my entire life actually working in real newsrooms, leading them, directing them, doing actual reporting – not playing a reporter or editor on TV. WND's actual newsroom is comprised of actual journalists who have worked in actual newsrooms for most of their lives. They don't make up stories.

"I'll have more comment when I have a chance to watch the episode. First, I will make sure no innocent children are around, as is necessary with most HBO programming. But this is clearly an attempt to smear our work. Why? Presumably the motive has to do with our effectiveness. We must be hitting a nerve in the corporate boardrooms of HBO or in the fertile imaginations of the morally bankrupt writers of 'The Newsroom.'

"I suggest people read WND and make up their own minds about it."
But "The Newsroom" is right -- WND has fabricated stories. Farah's own admission that WND publishes "misinformation" -- a notable portion of which is generated by Farah himself -- is just the beginning. Here's a sample of WND's bogus reporting over the years:
WND went on to claim that "more dirt was thrown on WND" when one character on "The Newsroom" noted, "Keeping in mind that WorldNetDaily reported that Obama murdered his gay lover." But WND has done that by indulging in (anonymous, unsubstantiated) rumors that Obama is gay and that "three Trinity United Church openly professed homosexuals [were] brutally killed in yet-unsolved murders that occurred within a 40-day time span between November and December 2007, as Obama's handlers were preparing to take his presidential campaign to the national stage" -- essentially suggesting that Obama played a role in having them killed.
It seems that if Farah and WND were planning to sue HBO and the producers of "The Newsroom" for libel or defamation, they really don't have a case since enough of what the show portrayed is true.
Posted by Terry K. at 7:58 PM EDT