WND Still Tell The Truth About Ex-Marine's Anti-Government Postings
Topic: WorldNetDaily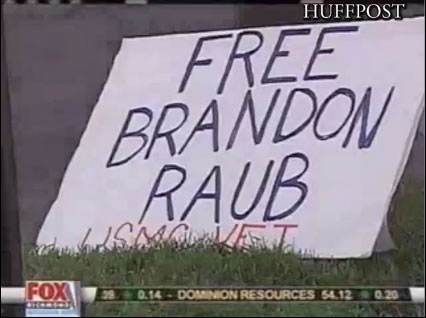 WorldNetDaily devoted an Aug. 3 WorldNetDaily article to the case of a former Marine, Brandon Raub, detained for "controversial song lyrics and political views posted on his Facebook page," but it still won't tell readers what Raub wrote that got him into trouble.
The unbylined article simply parrots the claims of Raub's attorneys at the right-wing Rutherford Institute that Raub's rights were violated. But WND doesn't quote anybody from Rutherford detailing what Raub wrote.
As we detailed the last time WND conveniently forgot to report all the facts, Raub had posted the line "Sharpen my axe; I'm here to sever heads." from the obscure Canadian hip-hop group Swollen Members. Raub also expressed truther beliefs on his website, as well as other far-right conspiracy theories in a rant that concluded, "WE MUST TAKE OUR REPUBLIC BACK."
But telling the full truth is inconvenient for the the agendas of both WND and the Rutherford Institute, so it goes unreported.
Posted by Terry K. at 7:30 PM EDT